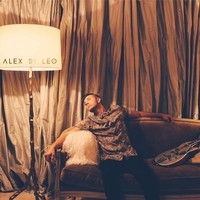 The debut solo effort from Fort Lauderdale based singer/songwriter Alex Di Leo, So We Go, marks his first work since the 2014 dissolution of the band Wyld Fly. He maintains a solid configuration for this EP, two guitars, bass, drums, and keyboards, and it is an ideal musical fit for the collection's six songs. The production style favors distance and ambiance over immediacy and recalls, in a not unfavorable fashion, some of the top outfits of the 1980's and the sonic treatment they received. Despite the stylistic trappings surrounding the songs, they never sound fake or premeditated. Di Leo and his collaborators play with a genuine band spirit, no matter what name adorns the packaging, and it makes for quite an inspired listen.
URL: http://www.alexdileo.com/
The title song starts things off nicely. "So We Go" alternates passages driven by urgent drumming with airy, harmony supported interludes that calm the mood some. Di Leo has an appealing pop voice that bounces throughout the uptempo sections and knows how to lay back when the music relaxes. Keyboards are a crucial part of what Di Leo's songs do on this EP and the opener would be a lesser tune without them. The tempo ramps up some on "Make It Easier", but piano guides a majority of the song at a relatively languid tempo. This is a moment where Di Leo concentrates more on lyricism instead of physically engaging listeners and the change in direction pays off.
Strong harmony vocals key much of the ultimate success "Reason" enjoys, but Di Leo's success here is just as attributable to his songwriting acumen. "Reason" does a great job expanding Di Leo's sonic template while contrasting light and shade in an inventive way. It's bracing to hear the song's acoustic opening segue into more of the rousing top shelf pop characterizing the EP to this point. This is quite a dramatic track with a vocal that more than does it justice. "When We First Met" is a real gem that recalls the work of indie darlings like Fleet Foxes, but roars with its own musical and vocal character. Di Leo utilizes light and shade in subtle ways on the penultimate track "I've Been Waiting". There are low-key shifts here between muted passages and larger, almost cinematic crescendos and the alternating arrangement will impress many listeners.
Di Leo's instincts for five star pop reassert themselves on "Waking Up" and the bouncy nature of the track belies his title some – a facet of his songwriting that will impress people time after time is its deceptive range. Much here can be taken at face value, but Di Leo is a songwriting unafraid to ask his audience to share in some of the heavy lifting of interpretation. Alex Di Leo has a fine start with his solo career. His EP So We Go is an excellent sign post pointing the way towards the kind of artistic future he envisions for himself and makes significant progress towards realizing that vision.
4/5 Stars
INSTAGRAM: https://www.instagram.com/alex_di_leo/
Jason Hillenburg