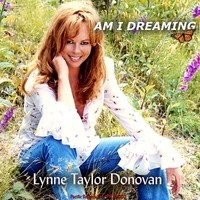 Lynne Taylor Donovan is a recognized Canadian country artist that has been working the scene for years building a following of dedicated listeners. Her soft, dreamy vocals are just the right amount of sweet for this latest single, Am I Dreaming.
Donovan never disappoints. She has a gentle, caring tone that is warm and refreshing. It takes you right in the moment and melts the coldest of hearts. This delicate powerhouse has a unique style will commercial appeal that gives you something to sink your teeth into. Strong but sweet is her forte and she has made it an art form of perfection.
Once again the production is a nice prosody to the lyrics and allows her to sing clear and concise. The emotion is built in and weaves in and out of each intricate melody. She adds a childlike playfulness that sets the mood; you can't help but smile.
I'm a big fan of Lynne Taylor Donovan for making simplicity with complex true raw emotion. Her latest single, Am I Dreaming sends you to a fantasy land created by sheer talent and grace. She is climbing the charts and understandably so, listen and enjoy!
I rate this a 5 out of 5
http://www.lynnetaylordonovan.com
Rebecca Hosking – hoskingrebecca@gmail.com