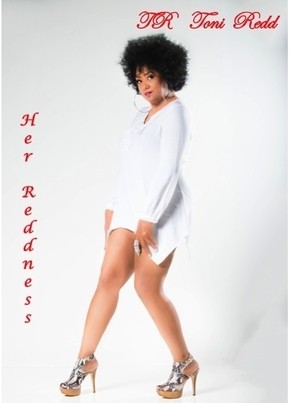 Enter into the jazzy and soulful world of 'Her Reddness' where everything is fine as wine. Toni Redd hails from ATL where her southern roots play a big part in her music. Redd has such a classy, elegant tone to her voice where it will be sure to captivate listeners everywhere!
J Rae: Your single "Stronger Than Before" is a terrific Cover of the classic Chaka Khan song but want to know how you originally approached this musically? What was the vision?
Toni Redd: I wanted to do a cover song on my new album, 'Her Reddness'. One of my favorite singers is Chaka Khan, and one of my favorite songs by her is "Stronger Than Before", and so I decided to do it and include it on the album.
J Rae: Did Chaka Khan have a chance to hear your version of "Stronger Than Before" and if so what was her reaction?
Toni Redd: I am not sure if she has heard my version, but I hope that with the exposure that it is starting to get, she'll hear it and really like it.
J Rae: Does this song literally make you feel "Stronger Than (Ever) Before"?
Toni Redd: Lol. It does make me feel Stronger Than "ever" Before. As more things are developing I'm being more encouraged. By the way, I did a lovely a music video for the song, so please be sure to check it out.
J Rae: You mix jazz, soul and R&B with such smooth finesse and wondering how this came to be? Where does this inspiration come from?
Toni Redd: I think the mixture of jazz, soul and R&B comes from my growing up years. My mom and dad had a big impact on my career. My mom turned me on to the jazz and my dad loved soul music and R&B. So, I grew up listening to all of it, and came to appreciate the genres.
J Rae: I read that you grew up in Atlanta and would like to ask your opinion on the overall music scene there and is it evolving?
Toni Redd: The music scene in Atlanta is really evolving because people are moving here from all around the country. I've noticed more live music venues and a lot more concert venues and concerts. Entertainment overall is making an impact in the ATL. The TV and Film industry is making a strong presence here. There are a lot of TV shows being filmed here, and Movie studios are being established here.
J Rae: What is your favorite Southern cuisine and any helpful recommendations?
Toni Redd: I love greens. I cook them in chicken broth and garlic with smoked turkey. I like to do a mix of turnips, kale and collards, but I have to admit, my favorite food is Mexican. I could eat it everyday and never get tired.
J Rae: Regarding all of your recording projects, how do they compare and differ in terms of style, sound and tone?
Toni Redd: My first CD is titled 'Straight From The Heart'. It's smooth R&B with a Jazzy feel.
'"N" The Key Of Redd' was my sophomore CD and in my opinion is very smooth R&B.
'Catching The Redd Eye' CD was number 3; that one is a mixture of everything. It has up-tempo songs, pop influence, R&B and Soul. I recorded it in three different studios with three different producers. 'Her Reddness' is my latest and is a well-rounded project of my signature style and sound.
J Rae: Speaking of your latest album titled 'Her Reddness', I hoping you could give the Skope readers more insight into this new project? What stands out on 'Her Reddness' and what are some of your proudest moments while putting together this CD?
Toni Redd: What stands out to me is the first track "That's The Way", because it features my friend and favorite saxman, Kirk Whalum.
One of my proudest moments is when he said yes to performing on the song for my album, 'Her Reddness'. I went to Memphis, TN to record with Kirk in his favorite studio, Royal Studios. It was an absolutely awesome moment in time!
J Rae: Any special surprises or gems on 'Her Reddness' that will absolutely floor fans when they take a listen?
Toni Redd: Of course for me the gem and special surprise is Kirk Whalum, who is featured on "That's The Way". He is a musician that many of my fans admire and we share that in common.
J Rae: You've had the pleasure of sharing the stage and performing with many musical greats such as: The Temptations, The Ohio Players and The Stylistics. What did you take from these experiences and did playing with and sharing the bill with such notable music figures help shape you into the artist & performer you are today in any way?
Toni Redd: I love to perform on the same bill with the old school performers because that's how you learn to do better and be better. From my experience, the old school performers know how to bring it! Not only do they sound good, but they know how to entertain and get the audience involved. They are the best teachers.
I feel that any artist/musician can and should learn from a well established artist/act.
J Rae: I read that you have also been involved with film, commercials and stage productions. Would you care delving more into this for all of the Skope viewers out there? How did you get involved with these areas of entertainment?
Toni Redd: I got into commercials and jingles from doing recording sessions. An engineer from one of my sessions turned me on to the commercial jingles. In this business sometimes it's not always how well you can sing but sometimes it's who you know. I've had the good fortune of having people connect me with various types of entertainment projects over the years.
J Rae: What's next for Toni Redd and what do have you in store for the rest of 2016?
Toni Redd: What's next for me, hopefully and GOD willing, I will continue to perform and promote my music which is available on iTunes, Amazon.com, CD Baby, Spotify and numerous other online retailers. I am also on Pandora, and I even have a Toni Redd station on Pandora. You can check out my shows calendar and updates on my website www.toniredd.com, and also follow and connect with me on Twitter, Facebook and Instagram.
Thank you Jae Rae and Skope Magazine for the interview, I really appreciate all the support that I have gotten so far from everyone. GOD BLESS!
By Jimmy Rae (jrae2@att.net)