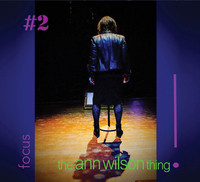 The front woman for Heart, Ann Wilson went out on a solo adventure with her new EP The Ann Wilson Thing on Rounder Records. When I was presented with this review, I was elated and cannot believe my good fortune to be able to celebrate this dynamic, power house vocalist.
Ann Wilson has a 4 song EP of some heart felt standards and she dresses them up with her style and grace. Through out the history of Rock n Roll, there have been amazing ground breaking artists, Ann Wilson left her mark with a distinct stand out sound. When you hear her scream from the heart you feel it deep in your core.
Wilson is going strong and belting the tunes as well now as she ever has, with unfeigned conviction. Each song has her signature scream that gets your pulse stirring and the emotions soaring. This EP is nothing short of perfection. This project is a validation of her excellence and amazing contributions she has made to the music industry.
The Ann Wilson Thing, is a small compilation of this woman's ability to own a song and execute it like only Ann can. There is nothing this woman cannot sing without making it turn into pure gold. Be sure to check out this EP, I am beside myself that I had the opportunity to praise a woman that has been a huge influence to me in my own career. Thank you for the years of entertainment and impeccable talent!
http://www.theannwilsonthing.com/
By: Rebecca Hosking – hoskingrebecca@gmail.com