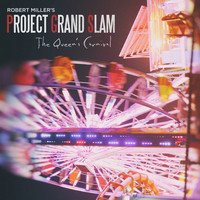 Robert Miller's Project Grand Slam, The Queen's Carnival after much anticipation has been released and melting faces in its path. Ably backed by Marcello Casagrandi, Mario Castro, Yasser Tejeda, Joel E. Mateo, Fabio Rojas, Willy Rodriguez, Meritxell Neddermann and Nathan Cepelinski.
This jazz compilation is a mix of instrumentals and a nice cover of You Really Got Me, the unique style in which it is presented, is out of this world, off the charts, exceptionally performed. The sound is huge with a presence that is infectious. It is entertaining from beginning to end; a toe tapping experience.
The production is spot on and impeccable, hard driving with deliberate excitement. It is a big band at its finest, full on, the real deal, keyboards, guitar, horns and all the fixings that make this large sound even larger. This Cd is up beat and puts you in the mood for a party. It hits your heart, then pulses through your veins until it has completely dominated your senses.
I highly recommend Robert miller's Project Grand Slam, The Queen's Carnival, it is out of this world. There is a beautiful, colorful beauty that dwells on this CD. The experience is not one you will soon forget. Add this to your collection and whip it out any time you need a smile.
Rebecca Hosking – hoskingrebecca@gmail.com