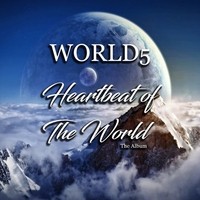 Sung with the utmost of hope is WORLD5's "Heartbeat Of The World". Possessing an inviting thoughtful pop sensibility reminiscent of Genesis, the songs are filled with bright shining textures. Lyrically articulate these are pieces that sing out for the best in the world. By letting them interact ever so gracefully what results is a fully realized work, one that works to present their singular optimistic vision of the world. Attention to detail results in a number of flourishes that permeate every piece, from slight keyboard riffs to an overall sense of freedom. Group play is magnificent as WORLD5 listen to each other.
Opening up with the grandeur of "Heartbeat Of The World" the album starts off strong. From there they move to the tenderness of "Maybe There's A Way". Elements of country follow into the impassioned song of devotion "Because Of You". Downright giddy in nature is the celebratory work of "Man Of Action" by far the highlight of the album. Softer in its tone is the delicate ballad of "I Promise You" complete with atmospheric guitar work and an overall sense of wonder. Akin to a journey is the expansive sound of "Stay" with its nimble percussion one of its highlights. Deserving to be felt as much as heard is the happiness of "Footprints". Closing the album off on an introspective note is "Loving A Restless Heart".
Buy:
http://www.amazon.com/World5/e/B0067LTAZ2
https://itunes.apple.com/us/artist/world5/id478881688
Delivered with style and grace, WORLD5's "Heartbeat Of The World" is a reassuring truly comforting piece of pop.
By Beach Sloth