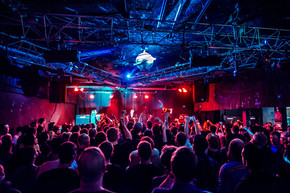 When you want to satisfy your audience through your event, you simply cannot go wrong with the music. Depending on the size, budget and style of your music event, you are required to select the music, keeping the age and taste of your audience in mind. Now, how can you arrange a successful musical event?
Identify Your Audience: You are required to know your audience properly. When you are putting up a great event, and selling tickets for that, it does not mean that people will buy them. For putting up a successful show, you need to identify your target audience. If you are doubtful, you can check the pages of the social media platforms to understand the type of local followers. The chance of your success always increases when you are involved in market research locally.
Proper Stage: Try hiring an appropriate stage for showing your event. When you are arranging for an outdoor venue, especially for the concerts, you should properly invest for the stage. If a full band of musicians is going to perform with huge equipment, you need a strong stage, which can easily handle the weight. The safety of the performers and the audience should also be kept in mind while selecting the stage.
Research About Permits: When the musicians are performing in a concert hall or a bar, they generally do not need permits. But whenever the performance is shown in a public space like a park or roadside, you may require permits from the Government. Without proper permits, you may not be allowed and can even be kicked out of the venue. So, perform a bit of research about your venue, whether you require permits or not.
Obtain Insurance: You may consider opting for a live musician for hire in your event. But, make sure all of them are obtaining proper insurance. If any accident occurs in the stage and there are some losses of the property, the event insurance policy will help in covering the damage and you will not have to make huge expenses.
Ideal Venue: Try to select an appropriate venue for your musical event. You will never expect a half-empty venue and, therefore, select it wisely. If you are a beginner in this industry, try selecting small venues at first, may be of 200 person capacity. If your show becomes a hit, then go for larger venues.
Go Local: If you are concerned about your budget, you should go local. When you are running tight on budget and cannot afford the travel and lodging costs, you should definitely go for local performers in the local venue for your event.
Increase Lead Time : The entire process of venue selection, hiring performers and the promotion of the event may take a lot of time. So, your schedule must be arranged in such a way that you get enough lead time. To get everything lined up properly, you may require a few months' time, depending on the size of your event.
Don't Forget The Weather: When you are planning for an outdoor concert, you must have a proper weather planning. Make a backup plan for rains or schedule another date for the performance. You will not prefer returning the money to the audience due to the mistake of the weather forecast department.
Before hosting the event, you must be aware of the type of audience, you are expecting. If you are still doubtful, you can take help from the professional event organizers. The experts will guide you starting from your venue selection to the planning of the final day of your event.
Author Bio: Brian Marshall is an event manager who works at http://magnifique.in/. In this article, he is providing some planning tips for hosting a musical event.