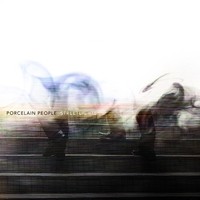 The electro-pop duo Porcelain People, hailing from the unlikely locale of Louisiana, have written and recorded quite a memorable debut. Their first full length release, Streetlights, aims at merging melodically driven electronica and pop. They earn their pop credentials with sharp, well-crafted hooks and intelligently composed synthesizer and keyboard textures that are tastefully applied. The lack of a customary band is no disadvantage here. Josh Thornhill and Fred Kalil have found an uniquely simpatico union as musical artists sharing a common creative vision and, as a result, each of the album's thirteen tracks has an impressively well rounded quality. The lyrical contributions, as well, are not purely functional – rather than feeling compelled to supply Thornhill with something to sing, Porcelain People's lyrics touch on personal and universal narratives wit understated poetic flair and total accessibility.
URL: https://www.facebook.com/PorcelainPeopleMusic/
The title track opens the album with dramatic piano and insistent electronic percussion. Synthesizers soon enter and take over as the lead melodic instrument while the percussion grows more assertive, yet complementary. Thornhill's voice couldn't be better suited for the material. He handles the tightly coiled vocal melody with a cool, personable confidence that never risks stridency and doesn't strain to keep up with the song's demands. The hyperactive electronic pulse setting the stage for "Vital" quickly evolves into an enormous, practically cinematic synthesizer colored soundscape. There's so much emotion conjured here from what we often consider improbable sources for such magic that the song will immediately stand out for many. The chorus hook is particularly strong and eminently hummable.
There's almost a progressive edge unexpectedly enlivening "Harlequin". Porcelain People fill the track with a lot of warm ambient surfaces that accentuate an already dreamlike quality pervading the song. Once again, Thornhill's voice immeasurably contributes to the overall performance quality – rarely are duos or bands of such persuasion lucky enough to enjoy the services of such an ideal singer. There is a rich identity emerging from these thirteen self-penned tracks embodied quite well by "Harlequin". The dreamy ambiance of "Harlequin" carries on and evolves in the song "Beating Hearts". Porcelain People abandon percussion entirely for this wafting, unmoored musings that nevertheless has a clear direction and never feels self-indulgent.
"Kingdom" begins with a light but insistent pulse before the synthesizers introduce themselves. A simple but quite lovely piano line laces itself beneath the electronica, but the real surprise here comes a little more than half way through when the tempo takes a turn. It reaches a slowly rolling clip and the extra hop it gains is enough to elevate the song further in listener's estimation. Few songs have more of a pop lilt while still reflecting the intense vulnerability of the duo's songwriting than "Help Me Know". Thornhill's early vocals are a little too buried in the mix, but the clarion call of his voice is highlight much better in other passages. Streetlights' penultimate track is "Goodnight is Not Goodbye", a colorfully titled number with a much more pronounced guitar presence than before. Naturally, Porcelain People never employ the electric guitar in anything except compositionally, but piano once again plays an important role here. This is a memorable debut for any number of reasons but, chief among them, is the undeniable fact that Porcelain People are a duo with astonishing musicality and reach.
9 out of 10 stars.
AMAZON: https://www.amazon.com/Streetlights/dp/B01H50F15G
Jason Hillenburg