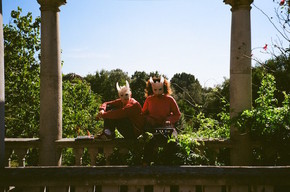 Jadu Heart are a production and songwriting duo based in the UK and signed to Mura Masa's Anchor Point Records. Today sees them release 'Late Night', the lead single from their second EP 'Ezra's Garden'.
Jadu Heart formed when Dina moved to the same village as Faro in her early teens. They collaborated on numerous projects in their youth before moving to London at 18. The pair met Mura Masa and Bonzai by accident in Peckham and, after talking for a few days, signed their first EP 'Wanderflower' to Mura's label.
'Ezras Garden' was written and recorded over 3 months in the French countryside, using bathrooms as vocal booths to create organic reverbs. As with 'Wanderflower' the band use natural soundscapes to take listeners on a voyage to their home. Dina and Faro wrote and produced the record themselves but enlisted the help of John Calvert (Mercury-nominated Swiss army knife who produced several tracks on the NAO album) for mixing and additional production.