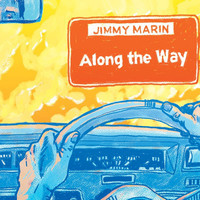 With a casual cool kind of style, Jimmy Marin's "Along The Way" ties together elements of classical rock, soul, and a little of the blues. Jimmy Marin's vocals are impressive and his lyricism is poetic in nature. Arrangements are pitch-perfect as they have a timeless quality to them. Opting for an airy approach these are songs that feel drenched in light. By balancing out these many pieces with an airy spacious approach even as the lyrics go for a close examination of true affection for others. The gracefulness of Jimmy Marin's sound reveals a true artist who has mastered his craft.
https://jimmymarin.bandcamp.com/album/along-the-way
"Along The Way" introduces the album on a high note. With a silky smooth groove, the song moves forward luxuriously. Employing a slight hint of funk, the song is one of many highlights. Unfolding ever so gently is the dreamy "Sweet September Sky". Turning the amps up a bit is "Yesterday" easily the best track on the entire album. Guitar work is incredible, the organ glistening, and Jimmy Marin's vocal delivery quite passionate. Careening about it is the unstoppable riffing of "Changes". Loose and playful is the bright work of "Edge Of The Night". Hushed whispers define the folk-tinged "Holding On For You". Delicate and beautifully delivered is the album closer "Won't Let This Go".
Jimmy Marin's "Along The Way" is a warm welcoming album, full of infectious hooks that lead the way through its tender exploration of relationships.
By Beach Sloth