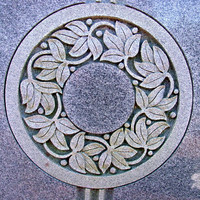 Michael Good Luck creates a careful inviting narrative on "Scripts and Scraps". With nimble guitar work, full arrangements, and a deep layered sound the album creates a teeming ecosystem. Clever the result is something truly unique as Michael Good Luck displays remarkable talent and proves he is a truly accomplished musician taking another approach at song craft, one infused with meaning.
Full of joy and triumphant is the passionate opener "New Step". With a light and airy feel the song sounds like freedom with exceptional guitar work serving as the song's anchor. Jaunty in nature is the smooth organ and guitar infused work of "The Wolf". Everything feels ideally placed from the nimble rhythm to the playful keyboard melody. Passion emanates from the core of "The Gemini". Intricately arranged it shows off Michael Good Luck's undeniable mastery of the guitar. Almost Post-Rock in nature is the gentle melody of "Good Stuff" easily the album highlight. The slow build works wonders displaying Michael Good Luck's emphasis on a satisfying emotional build. Quite tender in nature is the soaring atmosphere of "The Golf Club". Tapping into a slightly folk-inspired spirit is the stripped down acoustic work of "News". Deeply moving "The Bashfull" serves as a great sweeping statement, particularly towards the end where the guitar work aims for the stars. Bringing things to a close is the infinitely catchy "Cat Like Thief".
Smart, stylish, and tasteful, Michael Good Luck's "Scripts and Scraps" is a perfect rock album.
https://michaelgoodluck.bandcamp.com/album/scripts-and-scraps
By Beach Sloth