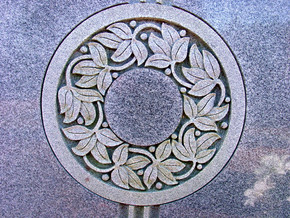 Grab your horseshoes, four leaf clovers and rabbit's foot and dive into the happy-go-lucky world of Michael Good Luck. With true Indie roots and a diverse mix, Michael is shooting for a Phish meets Blink 182 vibe in his music. The overall sound is rich & raw so Luck is definitely on his side.
J Rae: You go by Michael Good Luck and so first I have to ask you do you consider yourself to be a lucky person and any good luck/lucky charms?
Michael Good Luck: I am totally lucky just because of the way I live my life. All love. If I get money I share it, that's what causes the luck!
J Rae: Going off of that last question, would you consider yourself to be a gambling man and/or superstitious person? If so, please explain.
Michael Good Luck: I totally shoot from the hip. If I see an opportunity, I'll go for it. I think you almost have to be that way in the world today.
J Rae: Where do you hail from and how is life treating you there?
Michael Good Luck: I'm in Ashland, Oregon right now. It's a totally utopian, little city. Great location being half way in between Portland and San Francisco. I definitely like it here.
J Rae: What's the music circle/scene like in your neck of the woods?
Michael Good Luck: It's okay, there are a few hot spots to play at like Oberons and Club 66. Pretty small scale, but that's ok for now.
J Rae: You told me you're going for a Phish meets Blink 182 vibe when it comes to your music and have to ask what inspires that specific type of sound and style?
Michael Good Luck: These are two very defining artists in different eras of my life. I love that old Blink sound from my youth, but I really want to jam it out like Phish and make it more complex. I think this is a really unique process. You can hear this happening a bit in songs like "New Step".
J Rae: Who are some of your other musical influences?
Michael Good Luck: Well obviously Phish and Blink, but also a whole lot of others. There have really been two different phases for me that have blended together. In my youth it was bands like Taking Back Sunday, Hawthorne Heights, Brand New, and Silverstien. More recently it has been jam bands like Twiddle, Toabob Krewe, Lotus, and String Cheese Incident. I will never lose the indie roots, I just want to jam it out.
J Rae: I noticed right away when listening to your songs that you have a very raw sound with many different elements shining through. Would you say you're the type of artist who doesn't want to be categorized or labeled when it comes to your music? And would you ever allow yourself to be placed into a specific genre if it meant gaining a larger fan base and brand?
Michael Good Luck: Yeah totally man, I'll do whatever it takes to get fans and stuff. I really don't care what genre the music gets categorized in.
J Rae: Something I rarely ask and that is how does the music actually make you feel as you're playing or recording?
Michael Good Luck: A lot of it is super inspirational. It feels really cool to bust out on guitar. I really enjoy recording the treble parts.
J Rae: Going off of that, how does it personally affect you when someone is truly connected and really feelin' your music?
Michael Good Luck: I love it man. It's the ultimate communication. When people hear what I'm playing and understand the energy I'm putting out, it's the best.
J Rae: Any big summer plans and what are some of your favorite summer activities? Any plans of hitting a casino or horse track?
Michael Good Luck: Haha, yeah man I'm just gonna kick it here in Ashland and try to make the loot!
J Rae: Can people catch you on the road this summer?
Michael Good Luck: No tour right now. I'm saving up dough to record a new album here at some point.
J Rae: What would you like to tell all of the loyal Skope readers/fans out there when it comes to Michael Good Luck moving forward?
Michael Good Luck: The best is yet to come. If you like the stuff that's already out there, then you will be blown away by the product that will come from a more professional recording studio!
https://soundcloud.com/mgluck
https://michaelgoodluck.bandcamp.com/album/scripts-and-scraps
By Jimmy Rae (jrae2@att.net)