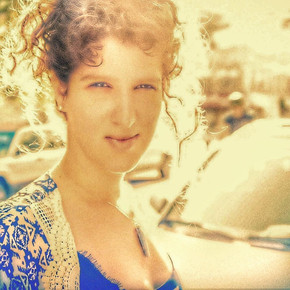 AVIDYA is a one-of-a-kind musical act and the mastermind of one of NYC's most compelling and intriguing artists and impresarios, Stephanie Carlin. The name AVIDYA has its roots in Buddhism, and, to put it simply, represents the ailments we have in our consciousness. This abstract definition of the word is heavily reflected in her no holds barred musical offerings. There are so many emotions, motifs, and metaphors with every melody she makes, and it can be hard to find one definitive meaning. This finely crafted and fully realized musical mosaic will challenge you in ways you never thought that music could.
At the heart of AVIDYA is the soul of Stephanie Carlin, an exceptional songwriter and music-making visionary. Soon after she released her solo EP titled The Agony and Ecstasy of…, she took to the Internet to find a band that shared her spiritual passion. After they released their full-length album Tree of Series, AVIDYA received praise all the way from the music hub MTV Hive to Yoga Teacher Magazine. The broad spectrum that AVIDYA compels is what has caused her to secure such a large, loyal and diverse fan base.
"On The Bright Side" is a breathtaking love story. The song and the dancers flow like liquid, running directly into the viewer's psyche. The male and female dancers are in a heated struggle with one another, pulling and pushing each other away like waves against a beach. The climactic ending is as much startling as it is tragic – the female is forced to leave the male, and the viewer is left deliberating if she is a wistful victim or a femme champion.