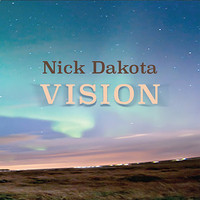 Nick Dakota embodies cool with a sound that rocks hard but is also downright country to the core as he puts his own, rad spin on things. Dakota came across as a seasoned and polished singer/player, so was shocked to hear that 'Vision' is his debut album. Thought maybe my eyes were playing tricks on me or maybe my eyesight was off when I read this fact because I could not believe it. Nick has a smooth edge to his vocals and guitar playing that gives him the upper hand in my opinion. I was hooked right from the start when listening to Nick Dakota's catchy tunes & riffs.
Dakota was actually discovered by famous producer and founding member of Bob Seger and the Silver Bullet Band, Robyn Robins. Robins produced 'Vision' and Nick also had help from major talents out of Nashville such as: Lee Hendricks who is Eric Church's bass player, Steve Hinson who plays steel guitar for Randy Travis and Troy Lancaster who is Tim McGraw's guitar player. Nick Dakota is also proud to announce that he is promoting his music with widely acclaimed producer Stephen Wrench through Musik Radio Promotions (http://musikandfilm.com/). With all this musical greatness surrounding Nick Dakota, the chemistry is high and the buzz is good.
The first single off of 'Vision' is "How Cool Is That" and I have to say this song contains everything that would be considered cooler than cool. This track was actually written by top-notch songwriters, L. Hengber and S. Williams set to be a smashing success and screams Country Radio Hit all the way. The vibe is free and easy-going and the vocal harmonies have similarities to that of the famous duo Florida Georgia Line. "How Cool Is That" is a fan-favorite and a perfect summer-time jam! On the song "Sledgehammer" you're not getting Peter Gabriel at all but moreso just a kick-ass, country rocker with a sweet, bayou-sounding effect. Nick Dakota took "Sledgehammer" by the balls and just ran with it creating a high-energy, country rock explosion that's pounding with edgy excitement!
Nick is preparing for a tour and even working on his next album at his home studio in Saugatuck, Michigan. But for now you have to check out this artist's debut album because Nick Dakota does have a true 'Vision' that rocks relentlessly while still staying true to the country style roots. I, for one, am a fan and love the musical concoction that Dakota and his fine team have come up with here. There's a new, kool kat about to hit the Country music scene in a BIG way and his name is Nick Dakota so don't forget it!
http://www.nickdakotaofficial.com/
By Jimmy Rae (jrae2@att.net)