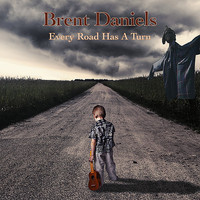 First thing I heard right away from Brent Daniel's voice was that distinct clarity and also a real down home, country tone. When I discovered that this is Brent's first recorded album I was absolutely floored! Reason being is because Brent Daniel sounds like a pro who has been playing for years and this effort is far from a rookie-sounding record. The music is polished and precise to the point I honestly thought I was listening to a country music sensation with loads of Hits under his buckle. He's that good…And I'm not just saying that… I wholeheartedly mean it!
Brent had the pleasure of working with Robyn Robins on this record who is the founding member of Bob Seger and Silver Bullet Band so not bad company at all. He also was lucky enough to record with some heavy hitters in Nashville like: Lee Hendricks who plays bass for Erick Church, Steve Hinson who plays steel guitar for Randy Travis and Troy Lancaster who plays guitar for Tim McGraw. Additionally, Brent Daniels is promoting his music with the help of world-renown producer Stephen Wrench through Musik Radio Promotions (http://musikandfilm.com/). With great people around him and a Country heart made of gold, Brent Daniels is well on his way to being a huge success in the Country Music world.
Country music is in Brent's blood and DNA, he said it himself, and I believe him! On the track "My Trucks Bigger Than Your Truck", it's just a fun, not afraid to get dirty in the mud-type song that's got that Country swag in full effect. The vocals and guitar playing stand out where you're committed to Brent 100% and what he's delivering. "My Trucks Bigger Than Your Truck" sounds like a Hit single to me that should be on Top Country Radio right now! The first release off the album is actually "My First Friday Night" which was written by Hit songwriter Dallas Davidson and this single has that WOW factor! The song tells a story about losing the love of your life and spending Friday night for the first time alone and I have to say Brent Daniels nailed it on all accounts. You sense that pain through Brent's vocals and the slowed-down tempo adds to that somber vibe of feeling alone. The singing and playing on this number is just downright phenomenal and "My First Friday Night" absolutely should be on top of the Country Music Charts and should be getting major airplay on all Country Music stations across the board!
Brent Daniels is a voice and musician to watch out for because I sense stardom for this guy and for this to happen very soon. With the release of his debut album, 'Every Road Has A Turn', Brent Daniels is already two steps forward with this crowd-pleasing, 12-track recording. If you're a fan of just good music and in particular Country then it's a must you support this artist because he's the real deal! I'm a fan already and I can't wait to hear what Brent Daniels comes out with next! And just a sidenote that I think opening for the likes of Jason Aldean, Florida Georgia Line or Eric Church would be the perfect ingredients and combination for a tour!
http://www.brentdanielsofficial.com/
By Jimmy Rae (jrae2@att.net)