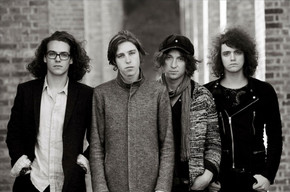 Today, BRIT Award-winning UK alternative rock band Catfish and the Bottlemen premiere the music video for their song "Twice" on VEVO. Watch it HERE. "Twice" is available on the group's chart-topping second album, The Ride, which debuted at #1 in the UK.
The black-and-white video spotlights the quartet doing what they do best: playing live. It's a fitting snapshot of the kinetic chemistry and energy that defines their concerts.
This summer, the band have delivered show-stopping performances in front of massive crowds at numerous festivals overseas including Glastonbury and T in the Park. NME captured the excitement of the Glastonbury audience claiming, "If the mud wasn't so thick, the crowd would be causing sub-strata tremors in Colombia." Reviewing T in the Park, The Guardian said, "Catfish and the Bottlemen are received like returning monarchs." Stateside, they ignited a similar fervor and enthusiasm among festivalgoers from their main-stage performances at both Governors Ball and Firefly Music Festival.
Photo credit: Jill Furmanovsky