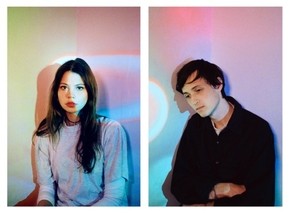 Melbourne duo Kllo has unveiled an official video for their new single, "Walls To Build," from their forthcoming debut EP, Well Worn. The moody and beautiful visual nicely accents Simon Lam's synth lines and Chloe Kaul's vapor-trailed verses.
"The clip was filmed on a range of cameras and edited by our good friend Hamish Mitchell. 'Walls to Build' brings influence from a lot of different places and we wanted the varying fidelities in the video to reflect how the ideas came together."
Things happen so fast these days that Kllo barely had a Facebook page or a proper song before a wave of interest began to build around their breakthrough EP, Cusp. What a telling record title; in the year since its release, cousins Simon Lam and Chloe Kaul have played sold-out shows and festival slots throughout Australia (Dark Mofo, Splendour in the Grass and Melbourne Music Week among many others) and overseas (The Great Escape, Primavera Sound), racked up millions of plays on Spotify, and landed on several Artists to Watch lists.
Photo credit: Angie Pai