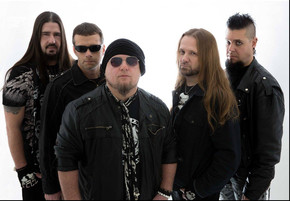 From the concrete and cornfields of the mighty Midwest emerge Dead Till Dark a hard-rock quartet from Springfield, IL. Fusing updated elements with the tried and true Rock n' Roll formula, DTD have quickly risen to the top of the List of Bands to Watch in 2016. With their new single, "Restless Heart," the band has touched into the emotional nerve of wanderlust that drives so many artists into band life to begin with.
Since their recent inception in 2015, DTD (Tommy Hart, Thomas Michael Montgomery, Danny Gunn, Micheal Neal & Larz Cothren)have performed regularly throughout the Midwest to continuously positive reviews with some of the biggest names in multiple genres of the Rock field, including Trapt, Black Stone Cherry, LA Guns, Saliva, Another Lost Year, HEDpe, Sons of Texas and many more.. 2015 also saw the band's first single "Restless Heart" receive substantial airplay in markets all across the Midwest, earning them a partnership with Pavement Entertainment.
For a band that has made their mark by blowing the doors of every venue they step into it's a natural move to introduce them to viewers with a rock solid performance video. Deep in a brick basement, the quintet rocks their restless hearts into a blistering, sweaty frenzy. The black and white footage relies on nothing but the band's energy to power the band. Only a few select light bulbs hang overhead to add some atmosphere, but the video is all about Dead Till Dark bringing it. Bring your shovels, you're going to dig this!
Credit: Hulida Productions – https://www.facebook.com/hulidaproductions/