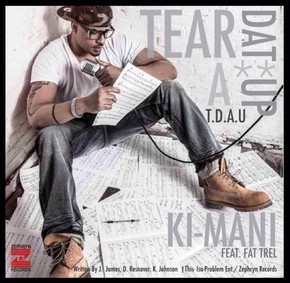 So here we are on a rainy Tuesday morning but it is all good because we got all that we need here @skopemag. I am so amped to have my boy from DC on by the name Ki-Mani. That man has much to speak on but before that lets do some music news. W Hotels Worldwide, part of Starwood Hotels & Resorts Worldwide, Inc., in partnership with Coca-Cola, debuted the first-ever W Sound Suite at W Bali – Seminyak. This private music studio and writer's room will be the place for professional recording artists, studio musicians and producers, in addition to hotel guests, to record in style while on the road. Additional studios in music meccas around the world will be unveiled later this year at W Hollywood, W Barcelona and W Seattle, with more to come. "W has a long history of musicians staying, playing, and celebrating at our hotels," said Anthony Ingham, Global Brand Leader, W Hotels Worldwide. In other news, The American Society of Composers, Authors and Publishers (ASCAP) announced that it has reached a Settlement Agreement with the U.S. Department of Justice addressing two specific concerns raised during the Department's ongoing review of the ASCAP Consent Decree. This Settlement Agreement clears the way for ASCAP and the Department of Justice to continue their discussions in connection with updates to the Consent Decree requested by ASCAP in order to reflect today's digital music marketplace. "Settling this matter was the right thing to do for our members," said ASCAP CEO Elizabeth Matthews. So now we have Ki-Mani who is riding high with his hit "TDAU aka TEAR DAT ASS UP" The video makes me want to jump through the screen and join the fun. He is heading on tour with Kevin Gates but he was cool enough to talk about everything going on in his life!
Stoli: Where are we talking from today and how has your week been so far?
I'm in Washington DC. My week? It's been kind of crazy the star of the Kevin Gates tour starts and I'm the opening act. First show is tomorrow in Fayetteville North Carolina.
Stoli: How does it feel that after grinding and working for so long the world is taking notice?
It feels really good actually. After going through so many surgeries after my car accident it feels good to be back doing what I love.
Stoli: Offer us a brief history of coming up and when did you see music as a career and not a hobby?
Music has been a part of me for as long as I can remember. I had my first deal when I was 15 so it's been a part of me and a career since I was a kid.
Stoli: Did you ever have times of doubt where you thought it was not happening and how did you persevere?
Sure, there were several times I have those thoughts. Especially after the car accident and during those seven surgeries. I spent a lot of time alone and in the bed, it was literally blood sweat and tears that brought me back to this moment.
Stoli: Is Ki-Mani your real name and how did that become your musical alias and define you?
Kimani is my real name. It's funny though. After I had my first deal my mom told me to hyphenate my name so people would pronounce it correctly. She said she also wanted me to know the difference between Kimani the person and Ki-Mani the artist – so I never got big headed.
Stoli: I love your song "TDAU aka TEAR DAT ASS UP." How did that song come together from the beat to the studio and when did you know it was a hit?
Ki-Mani ft Fat Trel – "TDAU aka TEAR DAT ASS UP"
https://www.youtube.com/watch?v=Pc6TTpIlDOc
I knew tear dat ass up was I hit before we ever wrote the lyrics. The beat killed from the minute you turned it on. I knew if we nailed it with vocals and lyrics it would be a hit. So I teamed up with some really talented writers and producers and we got it done.
Stoli: I love the video and you are at about 100K Views, amazing. Who came up with the concept and where do you find those gorgeous women?
Thank you, LOL… The concept was something I came up with with the director Broadway (formerly of 50cents cinematographer team and designer of thisis50.com). Some of the girls were a part of a model call some of them were models that I knew from DC, Cali, Miami, Ethiopia etc. so it was a really nice mix of beautiful talent.
Stoli: Coming up how crucial is it to work with Fat Trel and how did you 2 link up?
Fat trel is from DC like I am. I wanted to do a song with someone that was like me coming up and getting a lot of attention so that we could ultimately try and accomplish the main goal and that's have a hit.
Stoli: What is a personal element to Ki-Mani that folks reading this can relate to in everyday real life?
The grind. Every day people get up and work hard and push through pain, tiredness and other challenges all to make ends meet and to ultimately take care of themselves. I'm no different. I get up every day and I fight through issues so I can take care of myself.
Stoli: What advice can you offer other kids coming up who feel like their only options in life are sports, music, or the streets?
I would tell them no one can do this work for you. There is no easy way in. You have to lay the groundwork and in those times when it seems you're alone and no one else is believing your talented! You have to believe it and you ultimately have to make them believe it. It's a matter of do you believe in yourself. If you do go out and win!
Stoli: What is coming up for Ki-Mani and where you @ online?
I'm going to finish my project the coming and release it sometime towards the end of the summer hopefully.
You can find me at:
Kimani.com
IG: @Kimanirnb
Face: Ki-Mani
Twitter: @kimanimusic