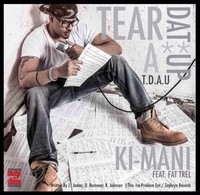 "TDAU (Tear Dat Ass Up)" is an immaculately produced, hard-hitting club banger showing off Ki-Mani and Fat Trel's undeniable skill. Volume is an absolute must as the bass is physical in nature. Rhythms dominate anchoring the entire thing. Serving as the heart of the song are the vocals, which are perfectly smooth. Lyrics are playful, flirtatious and highly sexually charged. By letting the song simply roll on the song feels incredible, perfectly delivered. Infectious in tone this is a song that lingers in the mind long after it is over. From the grandeur of the expansive, expressive sound to the heavy low kicks, everything feels just right.
Ki-Mani ft Fat Trel – "TDAU aka TEAR DAT ASS UP"
https://www.youtube.com/watch?v=Pc6TTpIlDOc
Wasting no time they dive right into the thick of things. The rhythms are colossal the melody unforgettable. Nimble in nature the melody is skillfully woven into the undeniably tight flow. Full of pure unbridled joy the song is giddy in nature, revealing deep in the fruits of seduction. By letting the lyrics develop ever so effortlessly, the song gets hotter and hotter. Over the course of the track the beats are relentless, the sex is restless, and everything feels so perfect. Capturing the joy of what happens after the club, the song focuses on the free spirit of a satisfying hook up.
Ki-Mani ft Fat Trel's "TDAU (Tear Dat Ass Up)" is the perfect kind of track to get a party started.
Twitter: @kimanimusic
Facebook: https://www.facebook.com/kimanimusic/
Instagram: #kimanirnb
Posted by Beach Sloth