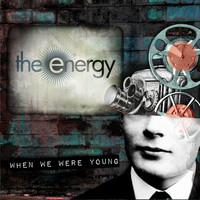 Hailing from Brooklyn, NY, The Energy is a five part rock band with a unique sound. With over a decade of experience, The Energy has been featured in countless publications, including MTV, ESPN, and much more. They've also been cosigned by many talented artists, including going on the road with 3 Doors Down. Now The Energy has come back to the music scene with the release of their fifth studio album "When We Were Young". This album comes with a message and is their way of straying away from the norm and getting back to their rock roots.
The album starts off with a bang in the song "Losing Myself". With its' charging bass line, the track makes it a listener's; favorite almost immediately. The lyrics tell a story of the turmoil in a relationship, saying "Losing myself and I'm falling/ Let me go free". This song follows the traditional rock format, which was refreshing to hear in the midst of the sensation of pop culture recently. The Energy's rock feel made it very easy to listen to, especially the great guitar solo by Ian VanderMeulen.
"Return to me" gave a soulful feel about loving someone when they are far away. With lyrics like "Will you wait for me tomorrow… I will wait for you once more", it shows a different side of The Energy. Reminiscent of early 2000's rock, with their heartfelt lyrics, the lead singer sheds a bit of vulnerability in this song. They also hint at some religious influences with the song "Free". It paints a picture, using the Garden of Eden as a symbol.
The Energy also shows their storytelling ability with "Don't Come Around", a funky tune with a technical guitar section. This was a great way for them to show their instrumentality. It also emphasizes the dark voice of the lead singer, bringing a much-needed edge to an amazing song. The lyrics tell a story of a deceptive person, saying "I can see your hollow eyes". Another song worth mentioning is "California Sun" which embodies the sound of California and the fun that comes along with it.
A highlight of the album is "The Constant". This song is not something I would expect from a band like The Energy, they took a risk and it definitely worked. Accompanied by supporting artist G4SHI, his rap really made the song enjoyable. Also, this track shows the versatility of The Energy' being able to collaborate with a rapper is no small feat since they are a rock group. One of the lyrics that stood out is "Your doubting means you doubt God", another instance of them playing with some religious influence. James Clifford took control of the bass line making this song infectious, and definitely one of my favorites on the entire project.
To round out the project, The Energy sings "Little Man" a soft ballad packed with words of wisdom. Overall, The Energy has released a solid project with "When We Were Young". They took some risks while showing their love for rock music. I'd recommend this album to anyone craving traditional rock, but is also open to a modern twist.
FACEBOOK: https://www.facebook.com/TheEnergyband/
Review by Abby Wright