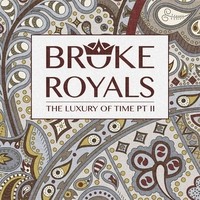 Based out of the Washington D.C. area, Broke Royals is a two piece band formed in 2014 by multi-instrumentalists Phillip Basnight and Colin Cross. The band's music defies neat categorization. There's an underlying rock aesthetic to the band's work that has allowed them to share bills with a classic rock institution like Lynyrd Skynyrd, but Basnight and Cross have ample melodic gifts and a love for electronica they superimpose over the rock posturing for compelling effect. Their third EP release, the latest entry in an extended musical work examining time as its theme, is an accessible six track collection, but the scent of ambition hangs over these proceedings from the outset.
The opener "On My Way" lays down a stirring template for the remainder of the release. Broke Royals specializes in a number of musical areas, but chief among them are command of melody and dynamics. There is a strongly orchestrated quality that defines songs like this, yet it is never so pronounced that it leaves the song stiff and ornate. A big factor in the song's continued liveliness are the lush vocal harmonies that play quite traditionally, yet strike the ear in an idiosyncratic way. "New Suns" is more amped up than its predecessor, but many of the same strengths distinguishing the opener are present here as well. Broke Royals know how to arrange songs in a way that utilizes light and shade in dramatically compelling ways. The vocals are once again top notch and bring the same powerful theatricality to the song packed in the arrangement.
"Young Tigers", oddly for its title, has a more relaxed attitude. It never crescendos at the same level as the preceding songs and maintains an even keel throughout. Some will find the consistent simmer to be just as inviting, in some respects, as the EP's earlier big screen efforts. The song finds Broke Royals a little more pensive and the stylistic shift is, ultimately, quite welcome. Broke Royals push the envelope a bit on "Love, Youth, & Glory" with its inventive mix of creative percussion, vibrant harmony vocals, and some of the EP's best orchestration yet. There's a thinner pop sheen on the album's finale, "Heartless Come Around", and more of a sharp rock and roll guitar bite that sets it apart from the EP's preceding tracks. Broke Royals continue to show their mastery of dynamics on the album's finale, but it's notable how they resist the temptation on a conceptual work to weigh the conclusion down with a lengthy, self-indulgent final statement. "Heartless Come Around" is, instead, resolutely focused and never overreaches.
Listeners won't need to be intimately acquainted with the album's conceptual themes in order to enjoy its contents. Broke Royals are supremely talented singers and songwriters with enough skill to make any musical landscape an entertaining visit. The Luxury of Time Pt. III is one of the year's most interesting releases and is a worthy addition to the duo's growing discography.
9 out of 10 stars.
Purchase Link: https://www.cdbaby.com/cd/brokeroyals
Jason Hillenburg