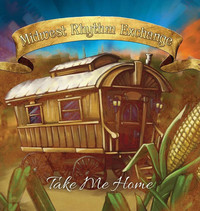 Delicate and refined, Midwest Rhythm Exchange create a warm intimate sound on "Take Me Home". With lilting lovely melodies the songs shine through full of confidence. The intermingling of a wide variety of styles from jazz to country to folk and everything in between. Such an approach, especially when coupled with their thoughtful lyricism, is at times reminiscent of The Decemberist's sound. Letting these pieces breathe ever so easy results in a sound that feels so inviting. Throughout the album the songs play off of each other, with every one taking just a slightly different tact on their sound.
Stream: http://midwestrhythmexchange.com/album/365064/take-me-home?autostart=true
Gentle in nature is the album opener "Life of Irony". Matt Koher's expressive violin work is particularly fine, and nicely accompanies the straightforward, heartfelt vocals of Kevin Lee Guthridge. A easy-going mellow rhythm dominates on the sly "Green Bean" where Doug Sauter's mandolin gives the song a funky feel to it. A delightful high-energy approach defines the multi-faceted work of "Take Me Home" where Aaron Ransdell's bass serves as an anchor to the otherwise chaotic proceedings. Opting for a dreamier atmosphere is the tender "Don't You Weep and Moan". Easily the album's highlight is the sprawling and soulful "Fifteen Year Lament" whose gradual build is quite beautiful to behold. Ending the album on a low-key note is the easygoing nature of "When the Night Turns Blue".
By opting for such a breadth of sound Midwest Rhythm Exchange's "Take Me Home" creates a thoughtful highly engaging piece of work.
http://www.midwestrhythmexchange.com
https://www.facebook.com/Midwest-Rhythm-Exchange-118918104853649/
Posted by Beach Sloth