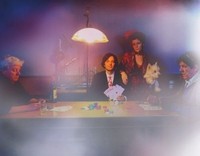 Franco/American duo Secret Season, featuring multi-instrumentalist Mark Moogalian and vocalist/keyboardist/flutist Isabelle Risacher, have released four albums since their 2011 debut with On Our Own. Their latest release Love is the Only Game in Town carries on the band's tradition of writing intelligent alternative music drawing from an array of influences. The album's twelve tracks are distinguished by their mastery of fundamentals, willingness to take chances big and small, and an individualistic slant that sets them apart from their peers. The duo's songwriting stands as an unique synthesis of American songwriting traditions with a distinctly European sensibility. Secret Season's latest effort, like those preceding it, will appeal to music devotees seeking high brow offerings that, nonetheless, remain quite entertaining and emotionally direct.
The title cut starts off the album on a minimalist, but muscular, note. "Love is the Only Game in Town" hinges largely on the marriage of guitar and bass. Lightly applied reverb effects accentuate the six string twang, the stripped back arrangement crackles with tension, and Moogalian's vocal might remind some of a less phlegmy, more nasal version of Tom Waits, but the title song's true achievement is how it weaves these various elements into an artful whole. Secret Season's songwriting here and elsewhere finds inventive uses for many tropes of popular songwriting and conversation. The album's second track, "She Is So Mysterious", works thanks to its quirky guitar melody, playful vocals, and tasteful keyboards. Echoes of The Velvet Underground heard in the first song emerge much more strongly here – it isn't impossible to conflate Moogalian's voice with a young Lou Reed. Risacher utilizes a number of interesting keyboard sounds here, among them organ and synthesizer.
"When I Saw Jesus" has much of the same sonic quirkiness, but it's much more guitar-centric than the earlier song and has a vaguely menacing undertow bubbling underneath its six string histrionics. Moogalian's fretwork makes some use of pure soundscape and peppers the song with brief flares of color, but he focuses much of his attention on developing melodies within these sometimes unpredictable landscapes. Melody has enormous importance to the next track "Linen White", but Moogalian isn't content with serving up guitar driven pop songs. He spins this track with unexpected percussion, dynamics that don't inform many of the album's songs, and a potpourri of attention-catching guitar sounds. Acoustic guitar enters for the first time in a significant way on the song "Flow". Keyboard and effects-laden guitar fills bring a lot of color to this otherwise fragile song – it's probably the closest Secret Season comes to a ballad on the album, but like everything else, Moogilian and Riischer are unwilling to keep the song between customary lines.
The album's penultimate song, "She's a Spy", has an unique lyrical slant on a familiar theme. Moogilian's Beatles predilections neatly dovetail into his artier inclinations and the result is a slightly ominous, but wildly imaginative bit of art pop. "Shine On" closes the album on perhaps its most progressive note. It's track drenched in keyboards far more than the duo's typical effort on Love is the Only Game in Town, but the decision to build the song around electronica doesn't obscure it for listeners. It's a final well written example of how capable these two are at bringing the past and present together in a compelling package. Secret Season's fourth album will further solidify their position as one of the more intelligent units writing, recording, and performing today.
9 out of 10 stars.
URL: http://www.secret-season.com/boutique/
FACEBOOK: https://www.facebook.com/pages/Secret-Season/181738038543570
Jason Hillenburg