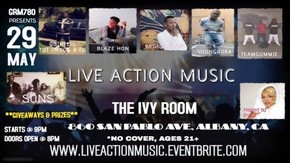 Pop singer Eye'z stops by thoughts of a Common Man Radio with Charles Williams on kgm1.com to talk about her up coming event live action music she is hosting at the Ivy Room in Albany, CA on May 29th, 2016.
Thoughts of a Common Man with Co Host Eye'z:
https://www.youtube.com/watch?v=07qEX-xA0Xo
The Live Action Music concert series showcases some of the best and exciting upcoming hip hop/rap artists from across the US.
The line-up for this event includes: Quinteis-TDT Prod + Co, Imerald Brown, Blaze Hon, Gungho Lil E from the G Stogiebrodie, Youngroka, TeamGummie and S.O.N.S. Hostess of the evening will be Eye'z.
Come check out these talented performers, drink + socialize and a have chance to receive a gift & win some cool prizes.
It takes place Sun May 29th 9pm @ The Ivy Room located at 860 San Pablo Ave in Albany, CA.
There's no cover charge and all people 21+ are welcomed to attend.
CLICK HERE FOR MORE INFO & RAFFLE TICKET:
https://www.eventbrite.com/e/live-action-music-tickets-25040719466
http://TheLovelyEyez.com – "A Diamond In The Rough, A Diamond In The Eye, Its The Crazy One And I'm Not Left Eye!"