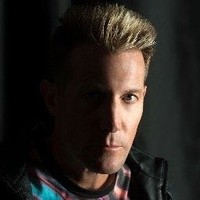 Originally from Northern California, Cavier (pronounced "cav-AIR") has been based in Phoenix, AZ for several years and up until recently was performing as Alan Clark in atmospheric pop duo EyeTalk. Over the course of ten years and five albums, this venture saw Cavier's music reach audiences as far-flung as Italy, the UK, and Australia. After five albums and hundreds of shows played throughout the US, Jonathan Cavier has reimagined himself and has formed a new musical identity on his debut solo album Premier. In addition to his musical endeavors, Cavier is a semi-professional tennis player and a member of the USTA and IFT. Cavier says that practicing and playing in tournaments is like "the fountain of youth."
"January" is the first single from Premier, Cavier's debut solo album. The twelve songs on Premiere merge his varied pop and rock influences from the 80s and today, resulting in a fresh take on pop music.
I don't know what being a semi-pro tennis player and a musician is like but I do know a lot of musicians who play amateur tennis, so this doesn't come as such a surprise to me. But rest assured it has nothing to do with this new single. But Cavier is no rookie, and it shows tremendously on this well-written cut. It raises curiosity about his whole album but the focus of this review is the single. So, sticking to it, the track starts out with a nice kick from the snappy drumming to be featured. But the vocals take over before a nice string arrangement backs him. It's all about starting over and making a new beginning. Just like a new year that way. It's obvious by the title that's what it would be about, but it is what it is, and very descriptive.
It's great how Cavier contains himself to three minutes and it just works. But there are always downsides, and the pace could possibly be the only one sensed. It's constructed like any soft pop tune, so it's delicately balanced with traditional values. The production is spot on as well. I like the twelve string acoustic sweeping away as the song goes on. And I'm not familiar with his background myself. I'm just going off this one track, so rating the artist as well is the challenge done through research. And it's obvious from that standpoint that he's experienced. But the point is, it's obvious by listening to "January," as well. And it's nice to hear a certain flawlessness which comes from that. But saying all of that I'm not super thrilled over his lyrics. But willing to hear more.
I don't even know how any of it compares to EyeTalk, which is the duo he comes from. But after five albums it is easy to tell said experience. But coming from that perspective there is nothing to complain about either. It's just that it's always better to know a few things so I did check out EyeTalk but it would take more that I've heard to give an opinion or comparison between the two. I just remember there being another band of that name. What I do get from both is a very David Bowie meets Morrisey vibe. I can appreciate that, as I like groups like Roxy Music and others. But this single is a very original piece of music, actually. Even though influences are felt they are also clearly further away than to be expected concerning that.
There is no denying to me that a good album is behind this, and I'd like to hear that because I know it would give me a much better opinion of this track. But to rate it on its own it is pretty good as indicated, but that doesn't mean it's everyone's cup of tea. I'm sure there is more upbeat stuff to be heard on the album though. As I don't imagine it to be full of this speed, which is either your cup of tea or not. And not knowing if it is all acoustic or not doesn't take anything away from it for me because I like that. But I also wouldn't mind hearing something more electrifying as well. But the bass has punch too, it's a pretty well featured rhythm section altogether.
In closing the rest is yet to be heard, but this single is a good start by definition. It's not perfect but nevertheless it has a great deal of perfection. And as a result it has me looking around at EyeTalk for this combined with horns, and liking Cavier himself as an artist, which is something to behold from this single. The consensus happens to be that he is good, no matter how good "January" is.
Larry Toering
7/10