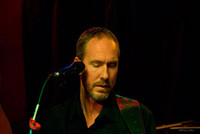 Music is a labor of love for Troy Lindsey. His talent is displayed and celebrated in this lovely duet with Eden Moody called, Runners. It is a sentimental ditty about love lost. It tugs at your heart strings and puts you right in the moment of each singer as they spill their turmoil out on a roller coaster ride of emotions.
"Runners"
http://k003.kiwi6.com/hotlink/guyesllwj8/Runners.mp3
I love the softness of this song. Starts out with the heartfelt voice of Eden Moody. It is pretty in the most elegant way. She shows sincerity through every note she sings. There is an intriguing longing in her voice that pulls you into the story right away.
Then Troy comes in with the same conviction. Nice traditional feel here in this song, you can really see his old school influences shine in this arrangement. There is a nice production that is best suited and conducive in allowing the story to ring through.
This song is a nice flashback to the traditions of what made country music so good back in the day when it was actually country music. I love the traditional style of slow honky tonk, heart breaking passion that used to define every single country song. I appreciate that Troy Lindsey embraces the roots in this lovely duo with Eden Moody, Runners. It is a must have song, I encourage you to check it out!
http://troylindsey.com/
http://www.edenmoody.com
I rate this 4 out 5
Rebecca Hosking – hoskingrebecca@gmail.com