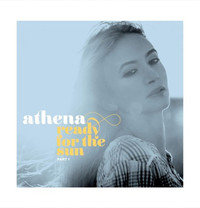 Sunny and satisfying is the spirited work of Athena's "Ready For The Sun (Part 1)". Vocals serve as the heart and center of the collection. Athena pays close attention to her lyrics letting them focus on the philosophical thoughts that so often define a life. The sound itself is steeped in country rock in the best possible way with the songs veering from careening bubbly pop to reflective introspective pieces.
"You Bring Me Luck" opens the collection on a poppy note. Buoyant in tone the song explores what constitutes luck. Her song asks the question is luck something that one needs to strive for or does it simply happen. The balance between the two gives the song a deep introspective theme to it. When placed alongside the jubilant melody the song simply soars. Offering a dreamier landscape is the languid pacing of "Everything To Me". Sweet and tender the piece grows ever so gradually with a particularly phenomenal finale reminiscent of Jon Brion's soundtrack work. Nimble and strong is the physicality of "Stronger". Reassuring in tone the song is full of warmth, letting the stripped down economical sound work wonders. Taking on a classic rock vibe is the playful "Autopilot". With a full sound courtesy of the expressive organ and piano work the song defies the idea of settling into a groove. Ending the collection on a high note is the whispered hush of "All Of You".
"Ready For the Sun (Part 1)" showcases the unique and commanding power of Athena's voice.
https://www.facebook.com/athenamusic
https://www.athenamusic.co.uk
Posted by Beach Sloth