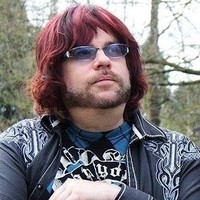 After a four-year hiatus, Barton returns to the music scene with the release of his second solo project "Simple Songs". Barton is an original member of the 1990's bands Petal and Suntribe, who he played with for several years. Afterwards, he took a break to focus on his solo projects. Barton, a Portland, Oregon native, brings pride to his home state with his raw and edgy vocals. Throughout the album, you can hear a blatant 70's rock influence, with a few sprinkles of jazz and even blues. The album takes many unexpected twists and turns, but always can be supported by a heavy bassline or an intricate guitar riff.
"Simple Songs" sticks out from other rock albums with its inspiration from different genres of music. In "Way About Her", Barton croons about his mystery girl in a lighthearted summer tune. His passion for guitar shines in this track with the funky breakdown halfway through. What separates this album from the pack is how seamless Barton and Tara Walker's voices meshed together. It was a breath of fresh air to hear Walker start a song, and listen to Barton joins her throughout this album. Another stand out track is 'Wtf", which embodies the dramatics that can come with love. It is easy to spot the Aerosmith inspiration all throughout this song, which Barton played with very well.
While the songs might be simple, not all of them were about falling in and out of love. In "Tool" Barton vents his frustration on his view of the world, and how hypocritical people can be. There seems to be a vulnerability on this song like none of the others; you can definitely tell he laid it all out on this track. In the first verse, he sings "But if we condemn them, then we become them"; which emulates a lot of the problems going on in the world today. There are even some spiritual references, with each line sounding like a verse of scripture.
You can hear Barton's unique ear for music in "The Red Line" with its shout-out to all things jazz. His voice paired with an awesome drum section made this track fun to listen to. This definitely strayed way from the traditional heavy rock, but I think he did justice to the genre as a whole. Barton's artistry is not only shown through his singing ability but also his guitar playing. This song had an infectious beat that was easy to dance to yet classic at the same time.
"Simple Songs" is a strong body of work that will have old and new rock fans satisfied. Barton denied the age-old tale of the sophomore slump and continued to stay true to what works for him. I'd recommend this album to anyone who would consider themselves a fan of heavy rock, but also has an ear for music with soul. There were touches of the blues, jazz, amazing guitar solos, and moving lyrics that were memorable and refreshing to hear.
I-TUNES: https://itunes.apple.com/us/album/simple-songs/id1079126465
FACEBOOK: https://www.facebook.com/kenneth.barton.52?fref=nf
Review by Abby Wright