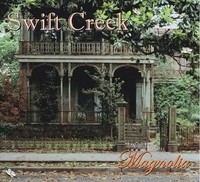 Hailing from North Carolina, Swift Creek makes a splash on the country music scene with their new album "Magnolia". Swift Creek is a five-part group, featuring Kevin Brown, Dennis Hoyle, Casey Elder, Stephen Fraleigh, and Ann Searcy. In addition to their riveting vocals, they also play a wide range of instruments including a banjo, mandolin, guitar, dobro, bass, and a fiddle. Throughout the album, you can hear each instrument blend perfectly together. "Magnolia" is an album filled with southern references and country upbringing.
The album comes to a fresh start with "Wake Me Up to Drive". Starting off with a lot of personality, Swift Creek displayed their southern roots with this track. It had a very busy instrumental section, which was fun to listen to. I also could hear some glimpses of blues and even some Americana, which was a pleasant surprise. This track was a fun light-hearted dance track, which I could hear at many country clubs all across the world. If you want to have a good knee-slapping time, this song is the one for you.
Another song that stood out to me when listening to this album is "After Glow". This song falls in line with the reoccurring theme that continues to focus on the heavy topics, including the afterlife. In "Afterglow", it says "In our little town/Life is slowing down/In the afterglow/". This song tells a story of a man who lived a hard life, and his somber reflection on all that's happened to him. The vocals were very touching, as the female vocalist made her solo debut on the track. It was refreshing to hear Swift Creek's storytelling abilities, as they stayed true to the traditional country music. They were able to paint a perfect picture of a life well lived, and the transition that comes afterward.
Swift Creek's ability to make something their own is an amazing feat. A great example of this is during "Life in the Slow lane", an ode to the song "Life in the Fast Lane" made popular by the legendary Eagles. At first, it shocked me that a bluegrass group would attempt to remix this song, since it is more of the rock genre, however, I was glad to hear that they brought justice to the tune. With their catchy lyrics, and spirited playing, Swift Creek made this song delightful to hear.
Sail Away Ladies, a purely instrumental track showcases Creek's musicianship. With its' strong southern influences, this song draws the listener into their Carolinian world. A big highlight was the banjo and fiddle. It almost felt like they were racing each other to the finish line, which made for an interactive experience. Another song worth mentioning is "Harlem River Blues" which brings a light-hearted sound to a depressing topic, about suicide. I've always had an admiration for artists that can make serious issues a bit easier to swallow with their vocal ability, Swift Creek was able to do just that. Another soulful ballad on the record is "The Levee" about the pains of life, and how to hold on even when "the levee breaks".
Magnolia was a strong record by Swift Creek. They proved their authenticity while showcasing their artistry. As soon as I pressed play, I was instantly transported into their southern world, and I liked it. It was fun hearing a mix of so many genres. I look forward to hearing more of their work in the future.
URL: http://www.swiftcreekmusic.com/
FACEBOOK: https://www.facebook.com/Swift-Creek-Band-149819118396229/
Review by Abby Wright