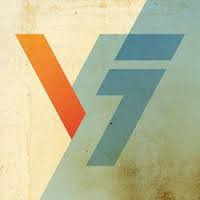 Version 5 has set the rock music scene ablaze with their new EP "Take You There". Brothers Spencer and Andy Olson have a musical bond that is stronger than blood. Their synergy is apparent in this EP with its sparse lyrics and larger than life guitar riffs. Version 5 brings a twist to traditional rock, having more of an industrial feel. At times, there are moments of pop, alternative, and even electric music. While short, the 3 track EP shows off Version 5's versatility and range. "Take You There" is bound to lead any music lover on an exciting journey.
The project opens with "Why Don't You Drop", a tune filled with angst and anger that would get anybody riled up. Within the first half of the track, the listener becomes fully aware of the Olson's guitar abilities. The hypnotizing chorus offsets the dark lyrics. In verse 2 it says "Cut the fuse before I say goodbye". Well said. The instrumentality of this song is unparalleled, giving the song such a great platform to work off of. Spencer and Andy do a great job of blending together, which makes this track so enjoyable. I can definitely hear it being played at many football tailgates to come.
Following the tune of industrial rock, "Bury You" starts off with a pulsating drum section. This song really showcases Version 5's electronic influences, since all of the transitions incorporate the notorious sped up sound that leads right into the chorus. The transition says "Feeling the weight upon my shoulder/ I won't let you take me over", which is sung by the amazing lead vocalist. A highlight of the EP, it brings an upbeat alternative feel that very few can master.
Ending with the title track "Take You There", it brings a great smooth feel to the EP as a whole. Version 5 shines through with their engaging lyrics, and infectious beats. It brings a great feel to the project and does a great job of summing it all up. In the chorus, it says "And you will drown/ So safe and sound/ Into the deep/No one around". They then go on to say despite the situation, Version 5 will always be available to take you there.
I'd recommend this EP to anyone who likes rock music with a twist. There is something for everyone here. Version 5 did a great job of combining their passion for music with their skilled songwriting abilities. Many times throughout my listening I could tell each lyric had meaning, something rare to find in the music industry today. I heard influences of Marilyn Manson, electronic, alternative as well as some traditional top 40 sounds. "Take You There" transports whoever listens into the world of Version 5, one that is full of industrial rock and tidbits of wisdom. Overall I'd give this EP a 7/10, seeing as though it is their first project. Any industrial rock fan should watch out for Version 5, and whatever they have to come.
YOUTUBE: https://www.youtube.com/user/version5video
URL: http://version5music.com/main
Review by Abby Wright