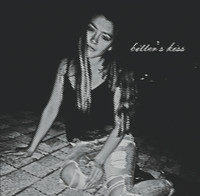 Bitter's Kiss "Love Won't Make You Cry" is angelic in tone. Execution throughout the collection is flawless as the pieces hit a perfect indie-pop balance. Delicate in nature everything simply works well from the carefully considered lyrics to the passionate vocal delivery. Throughout the collection Bitter's Kiss lets the songs interact creating a beautiful sea of sound. A wide variety of approaches are used from the country to the classical, all of which feel distinctly theirs.
Watch her video for "The Rope" (radio mix) at Youtube:
https://www.youtube.com/watch?v=6pJXlSk7cKc
"No One Will" opens up the collection on a high energy note. By far the highlight of the collection is the soothing subdued sound of "The Rope". Dark in nature at first the song grows ever more hopeful as it progresses. Melodies soar with the greatest of ease as the piece grows ever larger. The cyclical structure helps it work wonders as Bitter's Kiss appears to move towards the listener with each verse. Stripping the sound down to the absolute essentials is the tender ballad of "Love Won't Make You Cry". Sparse in style the piece grows ever happier. Lyrics move away from the initial unhappiness to find an inner kind of joy. Rhythms drive forward with great power on the emotional "Friday Nights". A dreaminess defines the song as the lyrics tell a story. Ending things on an energetic note is the triumphant "My God".
Stream her music at Soundcloud:
https://soundcloud.com/bitters-kiss/
Smart, stylish, and sophisticated Bitter's Kiss brings true joy with the infinite sweetness of "Love Won't Make You Cry".
http://www.facebook.com/bitterskiss
Posted by Beach Sloth