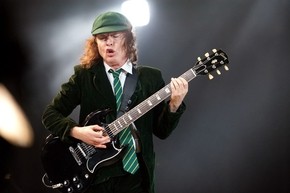 The band sounds tight and you've got big gigs on the horizon. But have you thought about band image? What are you guys gonna look like? Lucky for you, old ideas are new again, especially the idea of band uniforms.
A Brief History of Rock Band Uniforms
From the natty suits and thin ties of Ed Sullivan-era Beatles, to the hazmat suits and flowerpot hats of Devo, the way a band dresses says a lot about its music.
Big band musicians and jazz players often wore matching suits, and orchestra members still don tuxedos or formal gowns in concert. The suit-and-tie look carried over into popular music of the early 1960s. You can see the fashion influence of The Beatles and The Dave Clark Five resonate years later with The Cars and The Talking Heads. Some of the more outrageous uniformed bands of the 1960s, like Paul Revere and the Raiders, influenced theatrical rock acts like Kiss, Gwar, and Devo.
A Cool T-shirt Screams Rock-n-Roll
There are plenty of places online to get custom t-shirts printed on the cheap, as well as affordable artists eager to help you design a killer band logo. Do your research and check customer reviews. The internet makes everything easy, from outfitting your band to finding the perfect venue for your wedding. Some companies, like www.allusaclothing.com, can customize T-shirts with logos or designs on them. A simple t-shirt featuring your band logo is a great choice for onstage attire since it also functions as a powerful promotional tool. Jamming out while wearing an eye-catching T-shirt with your band's logo makes people remember your name and want to wear your band's eye-catching T-shirt for themselves. Push that merch.
The Power of Logos
Band logos can become iconic. The Rolling Stones' classic tongue and lips logo is immediately identifiable, while The Grateful Dead bring to mind dancing bears and groovy skeletons. Some band logos are more popular than the bands themselves. The Misfit's iconic ghostly ghoul, and Motorhead's fanged skull are beloved by plenty of fringe fashionistas who like the way the T-shirts look, but have never listened to the bands.
Smart Choice for Working Musicians
Band T-shirts are a smart choice for working musicians. It's hot up there beneath the stage lights, and a basic T-shirt will keep you cool. Plus, it's easy to swap your sweaty band T-shirt for a fresh one between sets. Toss your sweaty T-shirt into the crowd at your own risk … and be ready for them to toss it back at you!