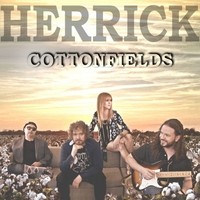 The dynamite new partnership on the Americana scene today, Kerry and Donna Herrick, follow up their critically acclaimed debut New Dance with this ten song set. It isn't entirely fair or accurate to pigeonhole what it is that Herrick does. The partners have outstanding collaborators with Jefferson Rogers playing a triple threat of guitar, lap steel, banjo and Jeff Bradshaw keeps everything a steady tempo, but they scarcely confine themselves to aesthetic purity. This is a trio that can flat out rock at crucial points and they aren't afraid for you to know it. The final amazing part is how they can conjure such sonic power with comparatively weak instruments. Their sophomore album Cottonfield is relentless. It never stops trying to entertain and connect with you from the first song.
The album opens with its title track. Herrick revitalizes this traditional song and reshapes it into a lean, unblinking rock guitar gut punch. Donna Herrick is a dominant vocalist. Her performance here doesn't recall Reba, Tanya Tucker, or Emmylou Harris. Herrick is in full blues rock mode, ala Janis Joplin, and her unique tone gives the vocal eye-popping passion and momentum. Guitar and mandolin join in the highly melodic "Hurt like Heat". The singing lacks some of the vinegar heard in the opener, but it shows Herrick's talent for tailoring her vocals accordingly. "In California" illustrates Herrick's ability to write focused character-driven songs with strong melodies. The mandolin occupies a prominent position in the mix once again and it gives "In California" an added bounce.
"Uh Oh" brings Herrick back to bluesier territory. The whiplashing riff driving the song gives Donna Herrick a great "hinge" of sorts upon which to hang her vocal. Her voice is in fine form, as always, and bears down hard on every line."Life in a Song" is a bit of stylistic departure from what came before. The song's second half is laced with unusual instrumentation and an atmosphere of practically religious calm pervades the tune. Herrick's singing has enormous sensitivity and dramatically glides through the lyric. While some might decry the words as being burdened with cliché, others will hear plain-spoken poetry driving to the heart of common experiences. "Like A Disease" is another blues-rock stomper with a particularly emotive lap steel guitar solo, but the lyrics are one of Herrick's few outright missteps. Many will find them to be entertaining and no distraction, but others might hear them as crippled by cliché.
"Freedom Love" begins idiosyncratically with a flurry of sound and chiming guitar notes. It soon settles another mid-tempo marriage of mandolin and guitar hammered home by simplified and cavernous drumming. Herrick wants a solid foundation for their songs and, once achieved, builds from that with their powerful vocal chemistry acting as final key ingredient. Their harmonies are quite strong on this song. The album's finale, "Together", opens with Donna Herrick accompanied by nothing piano alone. Kerry Herrick dips in for occasional light backing vocals. It's a fitting and emotionally naked ending for Cottonfields. Donna Herrick has outstanding talent around her helping to give it its merit, but she truly owns this collection. Every vocal, even on the lesser songs, is an absolute showstopper and worth the price of purchase alone.
4/5 Stars
URL: http://www.herricklive.com/product/cottonfields/
FACEBOOK: https://www.facebook.com/Herrickband
Jason Hillenburg