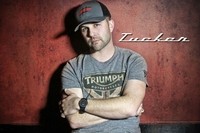 Tucker is a multi-instrumentalist and a prolific songwriter who's played and toured with Eric Durrance on the Jason Aldean (2008 CMT Tour), Jimmy Wayne, James Otto, Ashley Cleveland, Guy Penrod, Rick Derringer, Michael Peterson and more. When he's not indulging his love of music, Tucker indulges his passion for cars; American "muscle cars," street rods and more. "I'm a car freak. It's something I shared with my dad, and plan to share with my own sons," Tucker says. He enjoys car shows and just about every car-related reality show on TV. Tucker is currently restoring a 1968 Chevy Camaro. "What I Can Change" is a sincere message about having a positive impact, about making the little decisions that make a big difference.
Centering around the single, "What I Can Change," this is a seven track EP full of great material that rocks with much pop appeal as well as representing country music. It kicks off with the title track #Country, and it's a monster way to start. You instantly know there is a good singer/songwriter and that stays the course throughout the entire EP. When it comes to good country music values there are a lot out there mixing it up to a degree that works, and a lot who don't. But you know a good one when you hear one, and falling short of releasing a full LP, is the only thing to be faulted on this release. I'm not sure what comes into play to decide to do an EP rather than a full on LP, but it can boil down to budget, timing, band members availability, etc. So, sometimes you're lucky to get an EP, as many go the singles only route as well.
All of these songs play together well, and there are some videos, particularly "What Can I Change" with both the EP and an acoustic version to whet the appetite, so checking out the promo lyric clip is highly recommended and a good introduction to the artist himself. You can tell he's trying to improve without getting stuck in the process. But once again, all of these song manage to compel the listener as they swing from easy listening and pop right back to the overall country sound. And there are some great ballads too. But the single itself is a remarkable piece of music. It begins with a pop keyboard motif that sets it all up for a perfect vocal. At that point the arrangement serves to mostly compliment is voice as it soothes the senses. He sings about what there is and is not to be understanding in the world around him.
I love the melodies and his keyboard textures, they blend properly for a good single. And this is something you either possess as an artist or you do not. There is no sense of trying here, it flows very naturally and contains no forcing. In-fact it might even light a fire in the people who get wind of it, and nail its overall purpose far and wide. Hopefully this will happen in this hit and miss musical landscape. Either way it is a grand effort to do so, and you just can't fault the ease of it all. But this might not be your cup of country tea all the same. But take good note over the last twenty years how everything from easy listening to pop and rock have made their way into the country genre. This really began to come on strong with artists such as Garth Brooks who must've inspired the entire community to branch out. And to me that is a good thing because it helped music fans appreciate country a lot more.
Also being aware that some fans are so hardcore they tend to split hairs about what is actually country and what is not. By covering it enough over the years I have to say that is nothing positive to be laboring in as a music fan, but different strokes for different folks is a thing too. But his efforts on "What I Can Change" happens to bring all of these elements together correctly and you either like it or you don't, so this dedicates itself to country fans either way. There is no question about it. If you like a little bit of everything blended into the genre these days, this track is right up your alley along with the rest on the disc. It's a walk don't run to your nearest merchant thing to find this gem, and if it is your introduction to Tucker, then all the better. And to me that is a good thing because it helps music fans find the gold they're looking for.
Other tracks on the EP, please just the same but this is a good way to get into it all. If you like this, you will also enjoy the title track which is a barnstorming treat, "Hashtag Country" gets the full pronunciation in the song, and it is worth seeking everything on this release over. To mention some of them, "Leave" is a killer tune with that piano work shining brightly. It gives you an example concerning what is to be found laced through his music. It's a very positive track with several bursts of energy. I'd put it up there with them all, and "What I Can Change" should open the doors to the rest of the EP where that awaits discovery. One thing I can really honestly say is this single does the business in leading the ear to the rest, and that's the whole idea accomplished in one fell swoop.
Tucker brings the values home that country fans are after, especially younger fans who need more than their grand-parent's country, if they ever enjoyed their collections, that is. Don't miss out on a good artist with some great tunes to share, starting with "What I Can Change."
FACEBOOK: https://www.facebook.com/tuckermusic
URL: http://www.tuckermusic.net/
Larry Toering
5/5 Stars