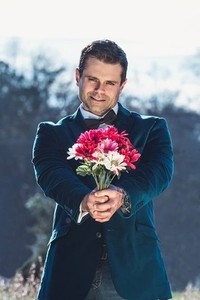 Brian Pharaoh's latest single, "Sorry", is poised to be one of those glorious shots into the dark that makes a career, but Pharaoh isn't exactly a new commodity on the scene. His 2003 debut Gettin' My Feet Wet garnered well deserved attention, but his burgeoning music career hit a snag when Pharaoh, a reserve soldier, found his unit deployed to the Middle East. His time serving in the military never swayed him from his ultimate goal – one day returning to his music career. The day has arrived.
"Sorry" has been described, by some, as the year's best breakup anthem and it isn't far from the truth. These songs are easy sells – the near universal resonance of the subject makes a songwriter's job much easier. However, Pharaoh doesn't merely hit his marks as a writer and performer. The song's gentle musical swing has deceptive density and more than a hint of rock and roll spirit – the flaring slide guitar licks, dramatic crescendos, and powerful drumming are ripped straight from the roots rock playbook.
There's ample humor and Pharaoh twists his twangy Okie voice in all sorts of deliciously lascivious ways dramatizing his experiences. Some might complain that he overplays his hand vocally and reduces this to a gimmick song, but it isn't that at all. Think of it more like an I need to laugh to keep from crying type of song. The truth of the matter is that these sorts of experiences are invariably painful when we live through them in life, but Pharaoh's song has distance from that pain and, instead, chooses to view through a prism of bawdy, hard-luck humor.
This is tailor made for country radio. Pharaoh never overindulges and the song's running time reflects his focus. The production, likewise, places his voice center stage in the mix and helps highlight his light-hearted phrasing and aw shucks charm. There have been a veritable army of these sorts of songs in recent years, throughout country music's history for that matter, but there's little question that Pharaoh's effort is one of the least self-conscious and funniest available. Despite being out of the industry loop for so many years, Pharaoh exudes an easy confidence that burnishes his likeability. In the end, no matter its subject matter, no matter your own experiences, "Sorry" is just pure fun.
If this first single is any reliable indication of his second album's potential, Pharaoh will come back in an even bigger way after its release. "Sorry", until then, will suffice. He clearly has his eyes set on pop country stardom with this track, but the sturdy song construction shows that he's more than just an entertainer – he's a first class musician, singer, and songwriter. This young man has packed a lot of life into a very short time and the future couldn't be brighter.
Purchase Link: https://itunes.apple.com/us/album/sorry-single/id1079954820
Jason Hillenburg