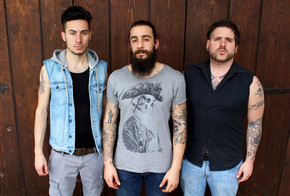 Since their formation in 2007, Italy's 7th Break have had a strong presence not just in the Milan area, but throughout the country thanks to coverage in music magazines such as Rock Hard, Il Mucchio and Metal Maniac. They've made small inroads to the international and US scene through a few compilations, but it is with their new single, "The Kingdom," that they are mounting a full-on push to introduce themselves to new fans!
For "The Kingdom," the band pulls together a sparse but visually stunning video using a little ingenuity and a lot of creativity. On a dank winter day they set up shop at the abandoned, derelict City of Toys in the town of Consonno, located in the Italian countryside. This once majestic bastion of luxury has since fallen into disrepair and been reclaimed by both nature and vandals. It's become a unique mix of urban street art in the serene hills of Brianza.
To elevate the video beyond just a simple performance video, the band strapped the camera onto a drone to capture sweeping visuals from a variety of angles. As the camera soars high above, the band rocks below with reckless abandon. It's the perfect mix of simple concept and masterful execution that expertly exhibits the depths of 7th Break's artistic creativity.