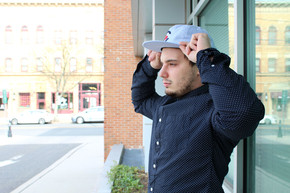 Man it is real good to be here today, feeling ready to immerse myself in some more Skope music. So before we get to my guest emcee, Sequel, lets check out some music news. Universal Audio is proud to announce a new development partnership with Fender Musical Instruments Corporation. This partnership will allow Universal Audio to greatly expand the range of unique guitar processing plug-ins for the popular UAD Powered Plug-Ins and Apollo audio interface platforms. In other news, TuneCore, the leading digital music distribution and publishing administration service provider, continues its international expansion with the announcement of TuneCore Germany. Tunecore.com.de allows German-based artists to collect revenue from streaming services, digital download stores, songwriter royalties, and sync licensing opportunities, all in their local currency. So now lets get to my guest today from NJ by the name Sequel. I caught wind of this emcee through his video "Now Or Never." I knew I wanted to learn more. Join us as Sequel speaks on his getting his start & musical alias, white rappers invasion, 'Underground Prince Mixtape', and so much more!
Stoli: Where are we talking from today and how is your day going so far?
I'm currently at my studio working on some new music for future tapes. My day is going well, no complaints only gold vibes.
Stoli: At what age did you know you had a passion for music and did your family support your vision?
I've played the drums since before I could even talk but really started getting into music around 3rd grade when I first was exposed to rap after buying "The Eminem Show" as my first CD. I wanted to be a rapper since then but I ended up playing the drums for a few bands and writing the lyrics until we broke up when I was around 15. Around 16 I took my rap career seriously and began working non-stop. My family was skeptical at first but now that they've heard my content and see me making moves they 100% support my vision.
Stoli: How did you get the alias Sequel and what does it mean in regards to your music?
In order to stand out you have to be different but everyone starts with influence in music. Basically what Sequel means to my music is that I'm a continuation of what's already been done but I'm the next level. Think about a movie, you have the first version and then you have the new and improved version which is the Sequel. It stuck with me and I decided it fit what I'm doing the best since I have my own sound.
"continuation of other generations of people"
Stoli: Some emcees do not write down lyrics and some do. Offer us insight into how you hear a beat and begin to find songwriting inspiration?
When you're experienced in something the words come to the beat naturally – I used to only write verses down on paper before saying them out loud but as I gain more skill I find myself writing down a lot of my freestyles. Also you can't force the music so most of the time i'm writing is when I'm inspired from something I'm going through.
Stoli: I love your song "Ahead Of My Time." When did you write that and what does it mean to you?
Thanks a lot man.. I wrote this song last summer after a hangout with a few friends who came over. After analyzing conversation of my generation I was pretty disgusted and it made me write an even bigger picture. When I say "Ahead of My Time" I'm implying that I'm wiser than most of my generation and see more clearly than them. It made me realize how disconnected I am with people in my age group – but also how well connected I am to my music.
You'll find in the last verse I start off by calling out how most artists conform to the same content on the radio and this is my movement to be above the influence so to speak.
"Now Or Never"
https://www.youtube.com/watch?v=Axg7tY-LUO0
Stoli: Do you feel like it is still rare for a Caucasian to rap and any other that you respect like Eminem, Action Bronson, Riff Raff, Slim Jesus, etc?
At one time it was definitely rare to find a white rapper finding success in the music industry, but ever since Eminem made his statement back in the 90's he's opened up new doors for upcoming artists like myself. More Caucasian rappers are being taken seriously like some of the ones you've listed above – also Mac Miller and G-Eazy. I definitely respect Em and Action Bronson but Riff and Slim Jesus aren't my preference. Everybody's different though so it's all love.
Stoli: What can readers expect from 'Underground Prince Mixtape' and where can we stream/download?
The 'Underground Prince' Mixtape captures the idea of being a talented yet unknown player in the game while telling my story. When something's underground you can't see it until it breaches but there is Gold to be found through my lines and something new everyone should definitely check out.
You can find steaming/downloading on my Soundcloud, my Reverbnation page, Spotify/Slacker/Pandora Radio – anywhere music is at you'll find me.. and of course you can support the movement by purchasing 'Underground Prince Mixtape' on iTunes.
https://itunes.apple.com/ky/album/underground-prince-mixtape/id1051156819
Stoli: When you are not doing music what do you like to do and do you work/school as well?
Spending time with the people I love is how I spend most of my time when I'm not doing my music. Being 100% Italian ensures my family values and the people who care about you bring positivity. I find myself watching a lot of movies for a visual inspiration and a step into someone else's story on my breaks. I find myself doing anything from fishing and playing basketball with my friends to going to NYC to shop for fresh clothes and chillin' at beach with my girlfriend.
I also attend college to become a producer and I work for a paving and excavation company throughout the summer.
Stoli: What is coming up for Sequel and where you @ online?
Sequel always has more to offer. Right now I'm heavily focused on another mixtape – Diamond District which I'll be revealing prior to release at my upcoming shows. Diamond District is an undeniable compilation of tracks that people can relate to, vibe with, and also enjoy/analyze advanced flows and melodies. The idea of a diamond is forever/perfect really motivated my vision. Although I've released a full length tape, my best work is yet to arrive. It'll be a 10-track mixtape that will challenge your mind and offer respiration.
https://soundcloud.com/sequel908
https://www.reverbnation.com/sequel908
https://www.instagram.com/sequel908