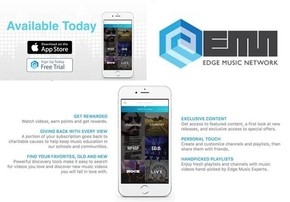 Backed by industry giants such as John Paul DeJoria; VH1 Classic founder, Eric Sherman; Aerosmith lead singer, Steven Tyler; The Who lead singer, Roger Daltrey; Queen drummer, Roger Taylor; and industry powerhouses like Universal, Capitol Records, Def Jam and Geffen—Edge Music Network (EMN) is on a mission to reinvent how music is heard, viewed and shared. Launching today, the interactive digital music network provides live and on-demand content through an advanced, gamified video syndication platform that delivers an unlimited, unrestricted and unbelievable audio and video experience that rewards users for watching, liking and sharing. Designed to enable a fair compensation structure for artists and give to charitable causes in a meaningful way, EMN both ensures artists and labels get the royalties they deserve and fans get uninterrupted real-time access to the music videos they love—anytime, anywhere.
"We are thrilled to offer a platform that provides the exposure and support our thriving community of creative talent deserves," says EMN founder and CEO, Elizabeth Vargas. "For well over a decade, music has been an easy commodity to download, copy and pass along to friends for free—and artists as well as record labels have paid a high price. Yet despite attempts—or rather promises—to level the playing field for all stakeholders, no sharing platform has changed that backward momentum, until now."
The EMN mobile app delivers a simplified, but technologically advanced music experience through a 14-day free-trial or premium subscriptions at $9.99 per month, offering a wide variety of classic videos, top artists, emerging indie artists, and fresh new content added daily. With modern architecture, deep navigation capabilities and powerful search tools, EMN makes it easier than ever for users to discover and stream the latest concerts, events and music videos of the highest quality. The EMN mobile app unlocks premium content, allowing users to easily create, manage and share custom playlists and enjoy channels with music videos curated by EMN experts. What's more, fans will be able to earn points for viewing, sharing and liking content and redeem rewards for merchandise, memorabilia and tickets to exclusive events. Subscribers will also have access to world-premiere launches, backstage interviews, and channels with music videos curated by EMN experts, as well as the ability to purchase their favorite videos from their preferred music service with just one click.
Check out this quick promo video for more information:
https://www.youtube.com/watch?v=7Qcwzm5wJ8w
Edge Music Network has gained wide support from the music industry and future plans are well underway to include live streaming for artists as well as capabilities for subscribers—aspiring pop, hip-hop, rock, alternative and country artists—to upload their own music content based on genre via an exclusive channel. Videos that generate the most views will graduate to mainstream channels, amplifying artist reach and increasing their chances for success.
Driven by compassion and a commitment to do good in the world, EMN will dedicate a percentage of every subscription to charitable causes, including those that feed the hungry, aid victims of natural disasters and support homeless veterans.
"We are on a path to revolutionize one of the world's most valuable industries," Vargas adds. "With a goal to unleash the universal and transformative power of music, EMN is well on its way."
EMN is currently available to download in the Apple ITunes Store and will soon be available on Google Play.