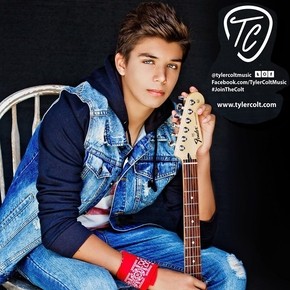 Hello to all in this world & beyond who love music & live it everyday like I do. So lots going on in music today plus we got Tyler Colt here so lets get to it. We are truly going global in all industries, Sony Music Entertainment have signed accomplished musician Davido to a groundbreaking global agreement. The deal was inked at the Sony Music offices in New York and will see the American-born Nigerian recording artist release his highly anticipated sophomore album later this year. This deal represents a step forward for Sony Music Entertainment as it grows its roots in Africa. In other news, music streaming services represent the mainstream for music consumption in Finland, Denmark, Norway and Sweden: 9.4 million Nordic consumers streamed music in 2015. But, radio remains the most often cited source for new music discovery in all four countries, followed by YouTube and dedicated music streaming services. So now we have an incredible musician who at 16 has ambition, discipline, and talent by the name of Tyler Colt. I caught "A New Day" video on Youtube and was blown away and realized Tyler is something special. So join us today as we cross the US to chat with Tyler Colt about being so driven at 16, his 3 new singles, reppin' beautiful Redondo Beach, CA, and so much more!
Stoli: Where are we talking from today and will you be with someone special on Valentines Day?
I'm 16 yrs old, a Jr. in high school, and live in Redondo Beach, Ca. No-one really special right now to spend Vday with other than my family. But looking and I know I'll find her.
Stoli: I am so impressed how driven & ambitious you are so young. How did your parents help contribute to that and do they love music too?
I've always loved music. My parents have always played music at home so it was always been around, all styles too. My Dad is big on classic rock & rock n roll in general. So he'd always put an album or CD on an tell me a story about who was playing. So I think they definitely had a hand in sparking my interest.
They got me guitar lessons when I was 5 yrs. old and loved it so much kept taking lessons to hone in on my skills.
My dream at age 5 was to be a RockStar. My Mom & Dad are very positive people, she's always telling me "if you can see it you can be it", and my Dad says "keep you're eye on the prize". They're both very supportive of me in my career & dreams.
Stoli: You have been playing music before 6, at what age did you realize that you had the talent to turn a hobby into a career?
It was about age 12 that I became really good at the guitar and wanted to write music. I started to play more intricate riffs and songs and my parents would tell me that I was really good. But your parents tell you stuff to pump you up so I didn't pay much attention to it. Then going on my 13th bday I really started to get serious and wanted to take things to the next level, or at least try to.
Stoli: What have you sacrificed from living a normal life to pursue music and how do you stay focused?
I think I've given up a little at times to stay focused on my music. There have been times when I've had opportunities to just hang at the beach with my fiends and had to say no. So I've felt at the time that I've missed out cause I had to go into the studio to record. But then after when I get to hear it, it feel like super charged cause I made that and it's pretty cool. But for the most part my life is kinda normal. I go to a regular public school. For the most part I've not really missed school cause things can be done after 3:00pm or on the weekends. There's always temptation to just go with my friends and just hang out and be regular. But some friends and family keep me grounded or on track so I have a balance of being a kid and working on my career.
Stoli: Would you say that your peers in school are supportive and how did you find your band-mates?
My friends are supportive of my career. They tease me sometimes but that's what good friends do. Most kids at school are very supportive and tell me they think it's really cool what I'm doing. One student wrote article about me for the school news paper, High Tide. There are a select few that are downers or haters, but it seems in life that's normal too.
It's unfortunate but you can't please everybody all the time and haters gonna hate no matter what you do. I believe in myself and what I want to accomplish so I just have to keep putting one foot in front of the other.
With the help of those who love & support me fully, I can accomplish greatness.
My band members – some of them I met through the School of Rock where I take guitar lessons. Once we got to play together for The School, then we talked about jamming together for venues outside of the school. Through my bass player Jesse, I've met other kids who play instruments. So I know a few kids that can play with me if for some reason someone is sick an can't make it. They're all supportive of my music and want to keep going with me. They love music too so it's a nice match.
Stoli: You have 2 new video/singles up now "A New Day" & "Look At Me". When did you write & record and how has the response been?
I actually have 3 out, but I don't talk much about that one, Back To The Start. It was the first one and I think I've gotten better since then with writing and composing. I wrote Back to The Start in Jan. of 2015 and released it on Aug. 2, 2015. We had a release party at the famous Whisky-aGoGo in Hollywood, Ca. The response was great and the release party was awesome. I performed a few covers from my favorite bands too. It was my drummer, Matthew Lucas and my bass player was Robbie Crane formerly of RATT and now touring with the Black Star Riders. Robbie's a family friend and I was so honored that he got up to play bass for me. We rocked the house and it was such an awesome feeling to see people singing along. At that moment I knew this was what I wanted to do. It was so empowering and such an incredible feeling.
Since then I've written 3 more songs (Look At Me, A New Day & Come Home) with the help of my friend and mentor Jerod Farnes from the band ALEVELA. I really like a more rock/alt/pop vibe and that's the direction I'm heading. Everything really kicked off in 2015 and continuing on. It seems once I got the knack of how to get the ball rolling with writing and composing, it just started flowing. I'm currently working on Come Home in the studio and another new song that I've got the melody for but the words haven't come exactly yet. I've gained a lot of a fans since I've started in Aug. 2015 that have written to me and support me, my voice and my sound. I'm so very grateful.
Tyler Colt – "Back To The Start"
https://www.youtube.com/watch?v=kjmIzDOZZ8A
Stoli: Your videos are so major & pro. Who did you work with and who created the video concept to match the song's message?
I've got a great team for my videos. The videographer is Kerry Porter from Frontman Productions, Casting done by Denise Young, producer is Todd Klepper and Jerod Farnes helped to create the concept based on the song's story. Then we'd all discuss idea's that each of us can bring to the table before we shoot it.
The last video seemed like it was not going to happen. (A New Day) It started out like everything was going wrong or falling apart. Jerod couldn't make it to direct the video, so my Mom, Denise Young & Kerry did the directing. Then the lead girl cast didn't show up an didn't call to let us know. We called the next girl on the list at the last minute and luckily enough she was available and on her way. 2 other cast members didn't show up so we had to improvise. In the one scene we needed a dog trained well enough to take commands. I have 2 dogs, they're good dogs, but they don't listen real well. To have them off leash an take commands, not gonna happen. So we figured we'd have to scrap that idea. Then a man was coming down the alley where we were filming with his dog off leash. My Mom commented how well trained the dog was and the man said that he trains dogs for a living.We asked him if he'd like to have his dog in the video and he was happy to oblige. From that moment of the day I realized that not throwing in the towel and rolling with the punches, had paid off and everything was working out. It was a life lesson too. When the going gets tough you gotta keep the faith or keep your eye on the prize, as my dad would say.
Stoli: Being that you are young & so connected with tech, what apps, sites, social media are best to recruit and retain fans?
Yeah I love my tech. My parents say my phone should be implanted in my arm cause I'm never without it. I think nowadays having mobile devices at your hand makes it a lot easier to connect with your fans. I use Twitter, Instagram, FaceBook, You Tube, BandCamp and my website.
I like Twitter and Instagram the best. I can post on the fly with Twitter when I want to share in the now. Instagram lets me post things that will stay around longer. It's instant gratification with social media. I can't imagine what life would be like without having a smart phone. My fans send me messages more through those 2 sites, (Twit & Instag) I usually reply within minutes if not hours to them. I get a lot of messages through FaceBook too. I like getting questions and comments from my fans. They really make me feel good. If there's ever a day when I'm not feelin it or I'm a little lost, I can just read a few comments and it's sure to re-boot me. They really make me feel incredible.
Tyler Colt – "A New Day" – Official Music Video
https://www.youtube.com/watch?v=sttYnNHn4IA
Buy: https://itunes.apple.com/us/album/a-new-day-single/id1061360159iTunes
Stoli: What was life like growing up in your hood of California and what other hobbies do you enjoy besides music?
It's a Cali life in Redondo Beach and it's all good. I'm so Blessed to live where I am. I recently had friends visit from Michigan and they were so happy to escape the snow of winter. None of them wanted to go back after visiting. You can see the beach from my house cause we live close. Even when the sun's not shining it's an awesome place to live.
One of my other favorite things to do is snowboard. I love snowboarding and try to go when I get the chance. It's also really cool that from where I live it 's only a short drive, like 2 hours to the snow in Big Bear so I can have the best of both worlds. Get an afternoon of snowboarding and then head back to the beach.
I'm a very out doors kind of person so rock climbing and cliff jumping are other activities I enjoy. I've recently taken to slack line walking on the beach. It's like a tight rope attached to 2 poles and you have to try to balance & walk across the line. I've also done back flips off the line which is fun. I like golf, basketball, football and soccer an flipping on the trampoline. Love to go to the movies, help at the local animal shelter and give lovin to all the pets who need homes. I would love to try skydiving.
Stoli: Where would you like to be in 3-5 years and how do you plan to get there?
I want to go to college, but I plan on continuing with my music. I'd like to tour around the US. I will continue writing and recording songs so I have enough material to play out live an record a few albums. Would love to collaborate with more people an perform with them. There are so many artists who inspire me. Would love to perform for VMA's, Kid's Choice Awards & Grammy's one day.
Stoli: The media is so hard on millenials and the younger generation. When you think of the future as a man and musician are you optimistic and why?
Yeah I'm optimistic, cause just as long as I continue to do what I love to do, it doesn't matter what they say. It's like having bigger bullies and I'm experienced with those now. Like I said, you can't make everyone happy, so why try. Be true to your self and I think the rest will follow. If you love what you do that's what matters most. I hope my music will open doors for other artists.
Tyler Colt – "Look At Me" – Official Music Video
https://www.youtube.com/watch?v=WDfTzmUXSfg
Stoli: What is coming up for Tyler Colt and where you @ online?
will be releasing my song Come Home in a few weeks, along with the music video. I plan on continuing to write and keep my creative juices flowing with new ideas. So far I write about things I've experienced in life, so I have a lot of living to do. I hope my fans will write to me what they love about my new songs. I take their comments seriously an think they can only help me to grow as an artist. You can find me at pretty much all links below. I reply personally to all questions, no robot here. Peace
Band Name: Tyler Colt Music
Social Media Links:
http://tylercolt.com/
https://twitter.com/tylercoltmusic
http://www.pikore.com/tylercoltmusic
https://tylercoltmusic.bandcamp.com/releases
https://www.facebook.com/tylercoltmusic/