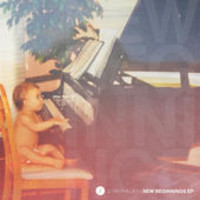 Chicago native and Berklee School of Music graduate Josh Phillips may have a stellar musical pedigree, but his EP release New Beginnings never sounds like he's slumming it. Phillips makes his home these days in Nashville, Tennessee and has embraced the AOR/pop country style with comfortable assurance. This six song collection is slick, expertly produced fare with strong, yet imminently accessible, melodies and lyrical content a step above the usual parade of clichés. Phillips has a cool, yet subtlety emotive vocal presence and a tasteful approach to the material
"Completely Out of You" kicks things off with breezy flair and muscular drumming. The rousing energy is particularly impressive when you consider how little Phillips makes use of typical elements – the guitars are much more compositionally oriented than in many songs of this ilk and there's no key moment when the six string takes over the spotlight. The chorus has a memorable, but understated, quality. The lacing of evocative electric guitar with acoustic guitar opening "Steal Me Away" immediately draws listeners in with its sensitivity and immediacy. The production does a great job of bringing the music "close" to the listener without ever overwhelming them. While the tempo is much more relaxed here than the opener, "Steal Me Away" moves with much of the same urgency thanks to the streamlined efficiency of the songwriting. This is music without any wasted motion and crafted to please many.
"A New Tomorrow" has a similar feel. Light electric guitar flourishes and acoustic rhythm work punctuate the song's soft-footed shuffle while Phillips offers another gently yearning vocal. The rhythm section is a sturdy, shadowy presence that holds everything down without ever drawing attention to it. Phillips' focus on country-influenced pop balladry continues on "Leave in Love". It isn't difficult to hear the song's probable beginnings on acoustic guitar as you listen and, even in its finished state, it provides much of the track's low-fi lyricism. However, by this point on the album, some listeners might find themselves hoping for a little more vocal variation than Phillips is willing to yet provide – "Leave in Love", like the EP's earlier songs, relies on a vocal approach that aspires to emotion, often finding it, but just as often falls prey to theatricality and pretension. One wishes Phillips would cut loose, just once, but he hasn't written those sorts of songs.
"Inspired" gives him that chance. Phillips rises to the challenge with an impassioned, bluesy vocal over stately piano lines. The song's quasi-orchestrated feel has a decidedly theatrical slant, but it never lapses into cabaret or cliché and the chorus, in particular, might be the EP's musical peak. "No Sleep Tonight" concludes New Beginnings with a supple, surprising acoustic track brimming over with blues, light comedy, and a cozy charm quite unlike anything else on the album. Fiery electric guitar licks singe the edges and brief spikes of organ amp the voltage and soul considerably. New Beginnings is an appealing release that aims at satisfying a wide cross-section of listeners. One might carp that it takes few risks, but it isn't that sort of music. Phillips is a solid professional who wants to entertain his audience – he succeeds and then some.
4/5 Stars
URL: http://thejoshphillips.com/
Jason Hillenburg