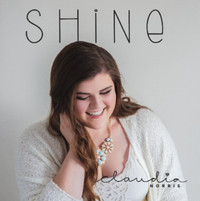 Canadian singer/songwriter Claudia Norris has been writing her own tunes since the age of 14 and singing since she was a little kid, so she definitely has experience under her belt at this point. Shine is her third EP release in which tips the hat to her influences Hilary Duff, Taylor Swift and Kelly Clarkson's poppy side. Her buoyant voice projects triumphantly over sprinkles of electric guitar and dance-happy rhythm melodies that keep the music fun and engaging.
The opener "Tonight" is the obvious summer anthem with big, bright production highlighting a catchy dance beat, Norris' expressive and emotive vocals and some light touches of rock guitar riffing. It might not be a new, unheard of sound but Claudia wears it well and surpasses a number of her contemporaries in terms of energy. This is a fun tune meant for 90 degree days while cruising down the interstate with the top down or dancing in the neon lights of an after-hours club.
Sporting an infectious chorus hook, the title track pushes an insistent keyboard progression over a steadfast drum beat and crunchy guitars. This song highlights the flow of Norris' melodies which carry the verses into a kinetic chorus recitation. Slick, smooth pop rock has lacked this energy for quite some time and the vocals eschew the current trend of copious auto-tune for a heartfelt, natural delivery. "Marry You" shuffles its way through a driving r & b percussive push with lively acoustic guitar and downhome vocals (telling an affectionate love story) creating some country crossover. The double-tracked vocals lend harmonic pleasantries to an easy on the ears tune that stays in ballad mode from the first note to the last. Closer "Sunny Afternoon" couples modern country with pop rock influences. The acoustic guitar twang mingles with keyboards, some Nashville slides and traditional rhythms, giving Claudia a lot of room to work her magic with crooning vibrato that especially enriches the chorus. Thankfully, there's no rap to be found here (the current obsession with country crossover artists) and the lush vocals and intoxicating instrumental arrangements conjure up fond memories of 90s radio country…the kind of country that still valued instrumentation and good hooks over appealing to a multitude of genres that have nothing to do with country whatsoever!
Shine is a very fun, entertaining slice of poppy magic with bouncy songs sung by a vocalist whose strong voice handles the material with class and care. There are enough gentle, driving musical moments and instantly memorable choruses in place to give Norris the potential to breakthrough to a larger audience and have a crack at major radio airplay. Despite the sugary sweet lyrics, they avoid vapid and tepid expressionism for affectionate passion that never stumbles over its own feet. If you've played out all of the great summer music played by the already popular roster of artists out there, this June you should definitely make room for Claudia Norris' Shine on your turntable. The catchy writing, playing and singing will surely keep the party bumping long after the guests have headed home to bed.
4/5 Stars.
URL: http://www.claudianorris.ca/
Mike Saulman