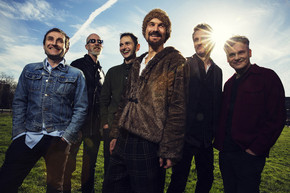 One of the UK's most creatively restless and loved artists, James, have announced today that they will be releasing their fourteenth studio album "Girl At The End Of The World" in North America on March 18th.
Already, two stellar singles have been revealed from this highly anticipated full-length; "To My Surprise" dropped last month (watch the official video here) and most recently, the incredible "Nothing But Love." Both tracks are available now on Spotify, Amazon (CD, Vinyl & MP3) and on iTunes as part of a pre-order of "Girl At The End Of The World" from today.
"Girl At The End Of The World" sees the band team again with producer Max Dingel (The Killers, Muse, White Lies). The new album is both anthemic and euphoric, with it's simmering electronica continuing James' long connection to the dance floor. The band's trademark songwriting and Tim Booth's distinctive vocal & evocative lyrics prove once again to be amongst Britain's finest.