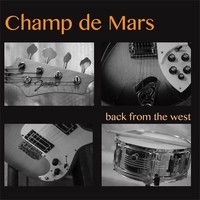 Champ de Mars is a group founded by singer-songwriter David Emerick, who has been an active front-man of various alternative and indie bands in the California area since the nineties. The most successful of his groups, Bellstar, worked the bay area for a solid eight years and released two albums. After Bellstar, Emerick moved to the east coast and focused on solo material. He has since released two additional albums and has written a novel titled, The Silent Year.
This project, Champ de Mars, which takes its name from a park located in the center of Paris, is somewhat of a creative compilation between musicians that Emerick has worked on and off with over the years. Their debut EP titled "Back From The West" was released at the start of 2016 and is available for free on the band's website. Emerick currently resides in Washington D.C.
A bunch of tunes that go in different directions to get back to the west is what this EP is all about. In getting there, the lyrics take some both easy and hard to swallow subjects but they're always called for either way. I liken this band to several 80s and 90s bands but with their own modern ad mixture. The guitars are vibrant and stand out more than anything else on these five well-written and recorded songs. Everything finds its due course somewhere on these cuts but it can be deceiving at times because they could all be singles too, really.
The EP begins with a very progressive track, "All Hail The Has Beens" that goes on about what used to be and how it got around, with mention of cell phones, the internet and what they really stand to do. In the mix of it all you get names like REM tossed in to describe bygone eras, as the description of the things they do that don't make for entertainment on the road. The rest is easy to follow as it glues these subjects together to get the title across. Out of all of these tracks it just feels appropriate to hear this at the intro rather than the outro of the disc. And that sets it all up well for what's to come on this collection of throwback songs with a current twist to them.
The next track is along a similar vein but has its difference and the guitars are always good but really get interesting here. The pounding rhythm section cuts through with ferocity here as well. This is rock but make no mistake it's filled with industrial vibes that dominate the polish. "X Marks The Citizen" delivers a home run for all of the more complex arrangements to be found here of the variety that hardly annoys. This sound like the 90s on steroids, as it slices right through that decade like a hot knife through butter. This is as good as anything else to offer here, for sure. And this continues on "Evaporate" as the title reads on this end anyway. Another good piece of music to enjoy with a distant ring of bands like "The Cure" combined with melodic rock guitar which is featured all over it.
"American Static" takes more shape of a quiet but highly effective approach that comes off a lot like "Beds Are Burning," and other tracks we all know from back in the day. You can't get away from this but I'm not sure you will want to, as some of that retro feel here comes from otherwise underrated influences. This really does the business for me. It's a fine melody with a lot of subtle but ever present punches of nostalgia. I don't shave any points over influences being felt or even emphasized by anyone because I'm a fan of these past eras as much as I am modern music.
This just hits me and rubs me right, as where it might get dismissed by the next reviewer but that is some of the magic to be found here too. It strikes me as more satisfying but not necessarily better in every way that these tracks embody their subjects. But you can pick just about anything up here and enjoy it as well. Just pointing out where it grabs me the most without any repetitive lines to reduce its powers.
The EP closes with one of the more interesting songs between the five. This is less guitar driven and more techno drenched than you might expect after so much guitar dominating the overall sound. This has a beat tracking and some other more electronic noisemaking until a guitar does takeover, but you don't feel it coming. This isn't a bad thing at all as it give the whole disc some depth to prove its selling points. But it also could be found as a weaker song than I'm giving it credit for. This all depends on what you like.
Although I don't find this release enormously satisfying, I do appreciate what it has to offer and the songwriting, producing and arranging are a qualified touch that brings it together without flaw.
Cory Frye
SOUNDCLOUD: https://soundcloud.com/champsdemars
4/5 Stars