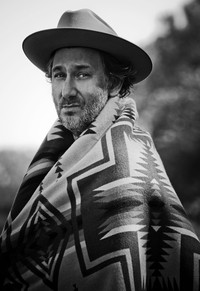 Catharsis. It's a word bandied around in artistic circles when attempting to describe the personal nature of specific works. Bob Dylan's Blood on the Tracks, Neil Young's Tonight's the Night, seminal albums like those and more are billed as uniquely revealing musical and lyrical products informed by grief and enormous individual loss. I write these words and consider the concept as I hear, in the adjoining room, my five year old daughter playing games on her iPad. Adam Levy lost a son to suicide. I can't imagine the wound. I can't even fathom the gaping, tear-spewing gash it leaves on our minds and memories.
I can, however, imagine dealing with it through art. Adam Levy turned to his gift, songwriting, and the resulting debut solo album Naubinway is an inventive, deeply affecting portrayal of his life today. Levy has established a much deserved reputation as one of America's great songwriting talents thanks to his tenure with The Honeydogs, but this first musical outing under his own banner will move, exhaust, and entertain listeners of every stripe. If you value heartfelt eloquence coupled with musical imagination, Adam Levy's Naubinway will rank among the best new albums you've heard yet in this young year.
The album opens with an affecting one-two acoustic punch. "Take It as It Comes" and "Potter's Field" have a stylish and musically substantive approach with powerful lyrical imagery and a distinctly downbeat mood. The stark, low-fi approach helps tighten the focus on the song's content and, particularly, Levy's weathered but warm vocals. "Atoms Never Die" has a strong unified thrust between music and lyrics. It turns from the singer/songwriter stance taken in the opening duo and, instead, offers listeners some of the best, fully-rounded pop music you're likely to hear this year. "How I Let You Down" ranks as one of the album's most effective moments, but isn't an easy listen. There's tremendous sensitivity propelling the song on every level, but a multitude of emotions power the track with Levy's withering guilt at the center.
"Marigold" provides listeners with another memorable moment. The track begins as a stripped-back acoustic tune, ala the album's opening tracks, but there's an understated adventurous musical edge missing from those earlier songs and it never comes more alive than in the song's surprising, chaotic coda. "Clemens in Plainview" has such easy going musical grace, particularly with the addition of organ, that it's easy to lose focus on the lyrical content. Levy, once again, marries solid songwriting with a distinctly literary flair. The album's final song, "Naubinway", nominally refers to a geographic location, but even a brief listen reveals it to be about much more. This is a fine bookend to the opening song that reinforces, without ever referring to it, the sentiments of the opener in a different way. Levy concludes the album as a survivor engaged with memory, but they are memories fueling an inescapable coming to terms with loss and moving on.
This is a hopeful record. The very act of creation affirms this. Moreover, the act of writing and recording this album further affirms that, despite tragedy's heavy hand, abiding beauty can emerge from the darkest despair. Please send us more songwriters like Adam Levy to help clear away the bullshit and detritus cluttering our lives
10 out of 10 stars.
URL: http://www.adamlevymusic.com/
Jason Hillenburg