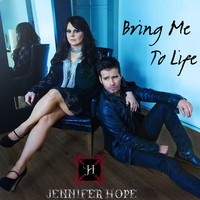 Jennifer Hope's "Bring Me To Life" is a defiant triumphant song. Sounding akin to a lovely mixture of the Cocteau Twins mixed with a little metal, the song is positively dreamy. With hazy textures given a little edge, Jennifer Hope's voice guides it the rest of the way. The slow build helps to emphasize the elegance and attention to detail that the song displays throughout. Lyrically profound, Jennifer Hope's "Bring Me To Life" has an existential quality to it as it explores the innermost meaning of what it means to be alive.
Buy: https://www.amazon.com/gp/product/B01AOT998K
Blissed out guitars open up the piece on a tender moment. Jennifer Hope's vocals rise above offering a sense of optimism that pervades the song. Jagged guitar falls into the mix. The percussion is particularly on point: just subdued enough to give it a slightly tribal feel. However, it is the drum/bass combination that helps create a powerful driving groove that guides the song forward. Sweeping sound halfway through the piece Jennifer Hope lets an ambient interlude take hold for a little while before the song starts growing in size once more. Towards the end of the song the aggression is gradually stripped away revealing only the sweetness of the honeyed vocals.
Audio: https://www.youtube.com/watch?v=dl0T1BbbQQQ
Crystal clear in its focus "Bring Me To Life" is inviting and irresistibly catchy. "Bring Me to Hope" shows off Jennifer Hope's deft talent in weaving together the soothing nature of shoegaze with a harder edge.
Posted by Beach Sloth