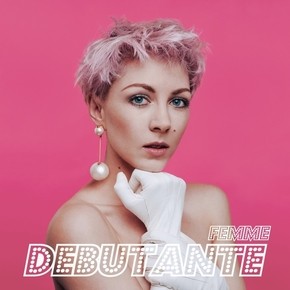 After two years of delivering self-written, self-produced knockout pop gems to an ever-growing army of bullet girls and fever boys, FEMME has confirmed she will be releasing her long-awaited debut album "Debutante" on April 15th.
Led by her glistening new single "Light Me Up," this kaleidoscopic collection takes a journey through high pedigree, female-powered pop referencing sixties girl groups, seventies disco divas, nineties chart icons and modern day bass-fiends. All channelled through FEMME's singular, modish filter. With the hype machine topping, incendiary singles "Fever Boy," "Gold" and "S.O.S." also in tow, "Debutante" is a reminder that whether it's raunchy, heart-breaking, energizing or empowering, pop music should always be one thing: fun.
In March, FEMME will be making a welcomed return to North America with a handful of dates at SXSW Festival in Austin, TX. Dates soon to be announced.