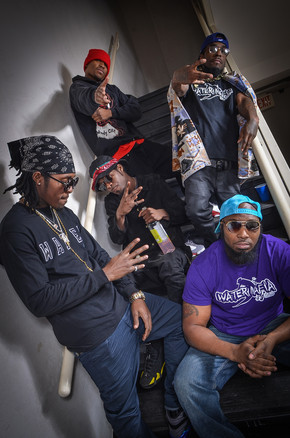 Any hip-hop group needs to define itself whether it be culturally, via fashion trends and styles, to eye catching graphics and naturally its nucleus which is the lyrical content and flow riding the music.
Water Mafia isn't just another rap group but more like a movement. They follow the trail of such legendary groups as N.W.A, Wutang Clan and the Hot Boyz. This generation of new hip-hop is more into branding themselves. First with their record label (Water Forever Inc.), trendy clothing lines, videography and editing skills as well as involving other upcoming artists.
Water Mafia consists of four emcees from the East-coast. All but one derives from Brooklyn, New York with the other coming from New Brunswick, New Jersey. They all relocated to Atlanta to pursue their individual musical dreams. As fate would have it they began to unite their unique superpower talents to formulate the mega gifted group, to be known as Water Mafia in 2015. Their influences are Tupac, Notorious B.I.G, N.W.A and of course Wutang Clan. To make themselves stand out even further they interweave a fusion of old school hip-hop with new school beats. The quad's live performances tend to appeal to the pop and rock audiences as well with their crafted catchy hooks and high energy hard beats.
Chaz Mack, Niko Donavelli, Walle Geez and Philip Pocketz each have their very own unique and enticing stylings. In addition now that they have joined forces, the goal is to ensure that Water Mafia becomes a household name! Listeners will want to support their Mixtape Water Mafia, Volume 1 and the first single "Medication" which will be released on various digital outlets this year "Water is needed for survival and is in everything living. As a result they will strive to be an essential part of the Hip Hop Culture." For more information go to – http://www.waterforeverh2o.com/
LA Virgil-Maldonado, MBA – lavirgil2010@gmail.com
Walk in Your Divine Purpose in 2016 – www.hismultimediaintl.com