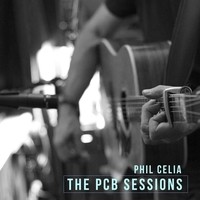 Quick Bio – Singer/Songwriter Phil Celia, Los Angeles Music Awards 2014 Americana Artist and Male Vocalist of the Year, recorded his follow-up to 2012's acclaimed "Circus Town" at EPM Studios in North Hollywood. The new record, "The PCB Sessions" was recorded by Lynne Earls and produced and mixed by longtime collaborator, brother Perry Celia, also a band member. The new record features 8 new original songs written by Phil and recorded live in the studio with Phil's current ensemble, The Phil Celia Band. Celia has many impressive releases to his credit.
What Can My Ears Expect? – This short but sweet "The PCB Sessions" gets right to the point and delivers what I would describe as electrifying folk defined by a soulful croon, a lively musical background and a genuine spirit that is put on full display via a strong musical talent that is one Phil Celia. Celia hails from southern California. Add in some good harmonies, solid vocal hooks, Mandolin, Guitar, rock steady rhythms, Accordion, Banjo, and lyrics that will literally stop you in your tracks – well you got yourself a real winner. Many tracks are straight from the heart/soul filled with life expenses of love, love lost, and passion, fear of loss, fear of loneliness and a real, genuine sense of hope that the future is brighter than the past. The music is delivered with easy to digest lyrics, a voice and musical personality that re-energizes the soul. Many tracks are compatible to a Radio Environment like "Ordinary Day" and "Find My Way."
The album opens to "Toe The Line" with its easy going folksy tempo and infectious melodic notes from Celia make for a good upbeat opener. Celia channels a refined yet raspy vocal delivery via contemplating lyrics. He's an amazing storyteller and knows a thing or two about life that's for sure. "Things I Know" and "Find My Way" provides a guiding light to the listener, a far cry from downbeat tension tracks like "I Hate the Rain" and the humble yet charming "Ordinary Day". The melancholy backdrop amongst which Celia's voice and guitar permeate the air really shine through on these slower tracks making the biggest impact. "Rock Me on Your Knee" rounds out the set with impressive harmonies and a conservative guitar finger-picking style that build up to an amazing crescendo chorus. Celia's voice and personality will make leave a lasting impression. After listening to The PCB Sessions – it was something I could not forget quickly, like most CD"s I listen to. The PCB Sessions stuck with me for good long while. His overall vibe made me realizes the raw truth of life's journey. Sometimes life is sweet and sometimes it's bittersweet with hint of tragedy every now and then. I review a lot of music and one of the biggest most important challenges is distinguishing Celia's tracks in a way that they register with fans in a unique way. Here Celia stands out from other indie artists in a big way. He's one of the best Indie songwriters I've ever heard in a long, long while, and I've been reviewing music for at least a decade.
Celia reminds me of Bruce Springsteen, Steve Goodman, Billy Joel, Eric Clapton and Tyler Farr.
I noticed Celia doesn't seem to have any trouble singing you some powerful subject matter along with the positive you get this in doses. Now isn't that was life's all about matter. Songs like "I Hate the Rain", "Ordinary Day" and "Rock Me on Your Knee" simply personify life itself.
Grade: 5/5 Stars
Official URL: http://www.philceliamusic.com/
Greg Cettina