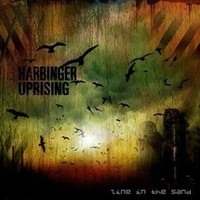 In our modern age of Rap synths and autotune it can be difficult to find the top seeds among the harvest. What makes masters like Rage Against the Machine, Tool, Eagles of Death Metal, and Massive Attack so sought after? Sure, they sound good, they look good, they feel good. But above that they've got something else. They've got what many in the industry call X-Factor. So what is X-Factor anyway? It's just something deep within their spirit that breaks the mold when compared to other artists. They stand out in a good way and transfer well into the hearts and minds of music fans all over the world. Where am I going with all this?
Clarksville Tennessee presents hard rock band Harbinger Uprising who just released their latest 19 track release entitled, "Line in the Sand". Over the years the band has consisted of vocalist and guitarist, Morgan Adames, drummers Charles Frost and Brett Marbes, guitarist Jon Knight, and bassist Tim Filer. However, today they are comprised primarily of 2 core members: Morgan Adames on vocals and guitars, and Brett Marbes on Drums. With their new release, "Line in the Sand", these guys have moved away from the electronic rock pacing of today's crappy radio thus producing 19 hot new unique tracks that more closely resemble progressive hard rock – in terms of length and musical form. Just look at the album cover visually as a prelude to what's to come audibly. In his own words, this is an eclectic mix of songs that hammer home some amazing lyrics. With the impressive lead off track (Breathe Through the Choke) this CD keeps it real with some tasty chops and rock grooves that decree power and exudes confidence to the masses. Two more impressive songs are "Dive" and "Only a Second Ago", definantly worth mentioning, while "Undone" and "Resolve" are clearly melodic standouts. What's more, "Eye on the Prize" and "Wounds Will Heal" offer instrumentally rich sets with pseudo-apocalyptic messages with an impressive vocal front from Adames. Don't get me wrong this isn't an overwhelmingly dark CD by any means, because it's got its fair share of truthful, rough and tumble subject matter. Case in point pieces like "Wounds Will Heal" which will even calm the tormented soul.
"Line in the Sand" by Harbinger Uprising really demonstrates a deeper side of music and even a sense of hope evident through a transparent exploration of yearning and feeling negative, yet boldly honest about one's self and correlation to the universe and the unknown in general. They remind me of Audioslave, Alice in Chains, Slipnot, Team Sleep, and at times Limp Bizkit. All brought to life with hauntingly detailed musical layers, hard hitting rhythm sections, mean growly guitars, and addictive vocal persuasion. My favorite track is probably "Heroes", which stands out due to its truthful conviction and amazing lyrics. The mix sounds a bit off kilter and it's obvious to me his best song is yet to be written, based on experience. Despite this, on all tracks expect an enticing vocal approach from Adames that's extremely cognizant to the soul. These two guys have a lot of very, very, very strong potential if they can take it up a notch with getting on, say, the Warped Tour, you never know what could happen at that level of exposure.
All things considered, this is a unique and fundamentally rocking CD from a unique and fascinating artist from the Midwest. It's nice to know within the ranks of millions of independent artists some are capable of delivering something special that sticks true within their own style and artistic expression. All the while touching an occasionally "in your grill" collection of powerful, well-crafted songs.
Score: 4/5 Stars
Purchase Link: https://www.amazon.com/gp/product/B011R9RP0U?ie=UTF8&*Version*=1&*entries*=0
Primary URL: http://www.harbingeruprising.com/
Steve Skidds